Argentina Poll Update: The Race to 40 Percent
In Argentina's October 25 presidential race, frontrunner Daniel Scioli isn't battling his nearest competitor so much as he is a set of numbers: 40 + 10 or 45.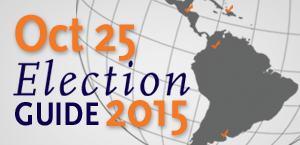 After eight years with Cristina Fernández de Kirchner as president, Argentines head to the polls on October 25 to vote for her replacement. Her party's candidate, Buenos Aires Governor Daniel Scioli, currently holds the poll lead. In the months since the August 9 primary election, known as the PASO, support for Scioli has risen modestly. Meanwhile, his main competitors, Buenos Aires Mayor Mauricio Macri and Tigre Mayor Sergio Massa, are the other two main candidates dividing a good chunk of the remaining vote. Three other candidates are running in Sunday's race, albeit all are polling below 4 percent.
Escuche a los tres candidatos principales presentando por primera vez en el mismo foro sus propuestas para el futuro del país en nuestra conferencia reciente en Buenos Aires.