Americas Quarterly Announces Latin America's Top Five Young Entrepreneurs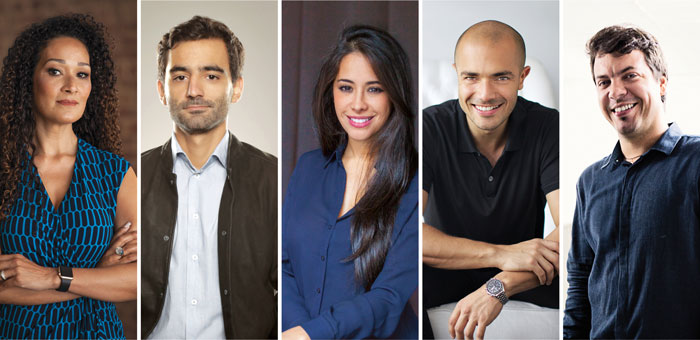 The group includes a Brazilian who started small and now employs more than 3,000 people, an Argentine whose gaming app is already available in 15 languages, and a Cuban skilled at overcoming the challenges of a controlled economy.
A February 16 launch event co-hosted with Endeavor Miami and the IDEA Center at
Miami Dade College will celebrate Latin America's entrepreneurial superstars.
New York, January 11, 2017—Latin America has the world's most entrepreneurial culture. From street market vendors to software engineers to small-scale subsistence farmers, the region crackles with the ingenuity and raw ambition that drive any successful start-up.  For its first issue of 2017 Americas Quarterly (AQ), the leading publication on politics, business, and culture in the hemisphere, set out to identify and profile the main characters in some of the region's most succesful business stories. These three men and two women treat adversity as a source of strength and inspiration and, along with other fellow entrepreneurs, hold the key to solving some of the challenges facing Latin American economies.
"Government policies, outdated education systems, and other barriers such as gender discrimination, security, and poor quality of life in large cities prevent people from realizing their full potential," writes AQ Editor-in-Chief Brian Winter. "This issue both celebrates what young entrepreneurs have already achieved and looks at ways to help them reach their full potential."
Latin America's Top Five Young Entrepreneurs according to AQ are:
Leila Velez, the carioca who, at 19, started Beleza Natural without any outside funding and now employs more than 3,000 people and serves over 130,000 customers per month.
Maximo Cavazzani, Etermax founder and the creator of apps including Trivia Crack, which for a long stretch in 2014 and 2015 was the world's most downloaded free app.
Jimena Flórez, whose company Chaak Healthy Snacks is transforming the eating habits of thousands of children in the U.S. while helping farmers in her native Colombia adopt sustainable farming while benefiting from access to new markets.
Andrés Moreno, the Venezuelan who understood that learning English is not a hobby but an imperative for millions of Latin Americans and is now spreading the phenomenon of his company Open English from language education to IT professional training.
Yondainer Gutiérrez, creator of ALaMesa, the first and most popular restaurant app in Cuba and one of the visible faces of the growing community of entrepreneurs on the island.
Read here the complete profiles of Latin America's Top Five Young Entrepreneurs.
LIVE EVENT:
In partnership with Endeavor Miami and the IDEA Center at Miami Dade College, the launch event of AQ's upcoming issue on young entrepreneurs will take place on Thursday, February 16, 2017 at the IDEA Center. The two-hour event will feature successful business stories from Latin America to emphasize the importance of entrepreneurship, examine challenges of starting a business, and discuss how governments and businesses can encourage further growth. This event will be webcast live.
The complete Americas Quarterly's first 2016 edition will be available January 19, 2017 at americasquarterly.org
Press inquiries:
AS/COA Media Relations: mediarelations@as-coa.org | 1-212-277-8384 | 1-212-277-8333.
Americas Quarterly (AQ) is the premier publication dedicated to politics, business, and culture in the Western Hemisphere, with a focus on Latin America. Launched in 2007 and based in New York City, AQ's award-winning magazine and website appeal to a broad audience interested in the region. Readers include top policymakers in Washington, D.C., Brasilia, Mexico City and beyond; executives at Latin American multinationals and Fortune 500 companies; opinion leaders in universities and the media; and a vast array of general readers who are passionate about Latin America. Editorial board members include former presidents Fernando Henrique Cardoso, Ricardo Lagos, Ernesto Zedillo and Alejandro Toledo, as well as leading voices from business, journalism, finance and academia. Americas Quarterly is an independent publication of Americas Society and Council of the Americas, which for more than 50 years have been dedicated to dialogue in our hemisphere.