The Americas in New York: Music and Meaning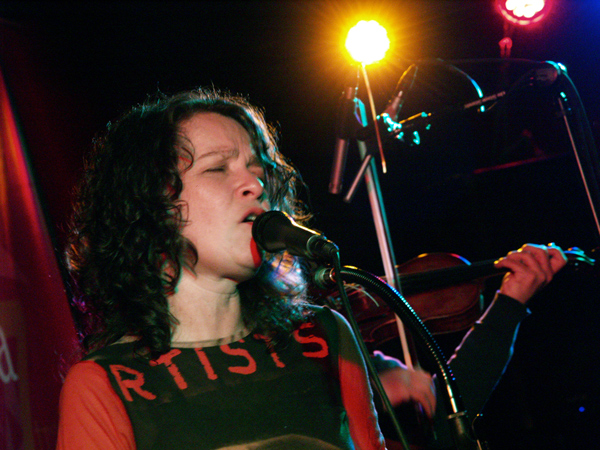 Last fall, we introduced the series "The Americas in New York," a statement that encompasses the reality of communities across the boroughs of New York City. 
Bolivian vocalist Gian-Carla Tisera, who was classically trained in opera, recently released her debut solo album Nora la Bella with Cuban jazz pianist Elio Villafranca. The album fuses folk songs and musical styles from her native Bolivia. One such example is "Señora Chichera," based on a traditional Bolivian tinku with live dancers:
Gian-Carla Tisera performs "Señora Chichera" at Americas Society (September 2014).
This February, we welcome Colombian singer Lucía Pulido, who was a longtime resident of New York City. Her soulful vocal style pulls from many influences, including her folk roots—she was half of the well-known folk duo Ivan y Lucía before moving to New York—as well as jazz. For this particular program, "Canciones de Despecho" ("Songs of Broken Love"), she performs with long-time collaborators Sebastian Cruz (guitar), Sergio Reyes (violin and melodica), and Pedro Giraudo (bass), incorporating original material as well as classic Latin American, mid-twentieth-century love songs. 
Lucía Pulido performs Etelvina Maldonado's Por qué me pegas at Lincoln Center.
This May, Argentine folk duo Juan Quintero and Luna Monti have their U.S. debut at Americas Society with special guest Miguel Zenón. Quintero and Monti released their fifth album as a duo last year, and have amassed a large following in Argentina for their unique fusion of folk and popular music, setting classic songs as well as their own original work. Zenón's career is rife with projects integrating his Puerto Rican heritage into the downtown New York jazz scene.    
Luna Monti and Juan Quintero perform Jorge Biagosch's Chacarerita Mchiporodoble with Koki and Pajarin Saavedra
This series was also well-represented in Review 89 from Fall 2014, which compiled critical essays, creative texts, book reviews, and art by/about Latino writers/artists whose work has contributed to the cultural wealth of New York.
"The Americas in New York" series is supported, in part, by an award from the National Endowment for the Arts.