Video: Elecciones del #6D en Venezuela - Qué sigue?
Panelistas:
Luis Vicente León, Presidente, Datanalisis
Daniel Lansberg-Rodríguez, International Finance Faculty de Northwestern University's Kellogg School of Management y columnista para El Nacional
Francisco Rodríguez, Director y Economista Senior Andino, Bank of America Merrill Lynch
Andres Schipani, Corresponsal para los Andes, Financial Times (moderador)
El 6 de diciembre Venezuela tendrá elecciones para elegir diputados a la Asamblea Nacional y las encuestas muestran que la oposición ganará una mayoría legislativa. De acuerdo a Francisco Rodríguez la oposición ganaría dos tercios de los curules con solo 18 puntos de ventaja sobre el partido del gobierno. Sin embargo, las encuestas de Datanalisis y otras firmas calculan una ventaja de 25 a 30 puntos, notó Luis Vicente León. Aunque esto significaría un cambio profundo para los chavistas, igualmente será una batalla para la oposición, a quienes les falta definir una agenda, dijó Daniel Lansberg-Rodriguez.
---
Infographic: Venezuelan Public Opinion ahead of December 6 Elections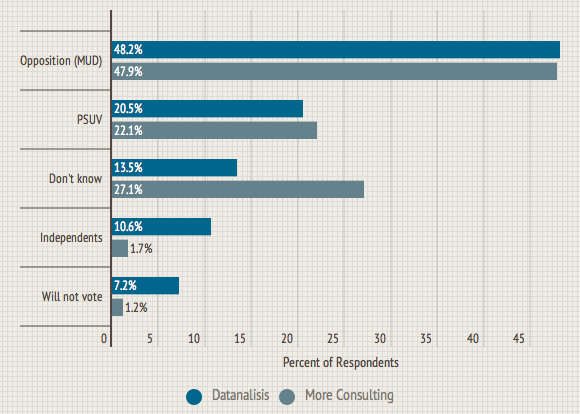 ---