New Image Painting, Argentina in the Eighties: Rafael Bueno, Guillermo Kuitca, Alfredo Prior
February 23, 1989 to April 16, 1989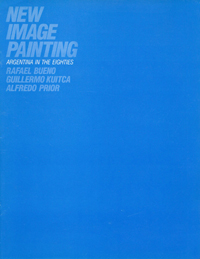 The exhibition focused on the work of three young Argentine artists who best represented the diversity of the "New Image Painting" aesthetic in Argentina. Despite their different forms of expression, each artist addressed similar thematic concerns with underlying poetic and psychological currents.
Arts Magazine critic Robert Morgan wrote: "The exhibition clarifies the role of subjectivism in Argentine painting in a way that places it totally outside the conventions of Western European expressionism."(Summer 1989)
Although clearly there were parallels between New Image painting in North America and in Argentina, the two movements reflected differing sensibilities born of the particular social, historical, and cultural context from which this kind of painting emerged. What distinguished Bueno, Kuitca, and Prior from the practitioners of New Image Painting in the United States was the more pronounced presence in their work of poetry, passion, and psychological undercurrents.
Kuitca's paintings from 1984 to 1986 were mysterious narratives set in a fragile, distorted world. Alfredo Prior used color masterfully to express mood, atmosphere, and timeless space. Bueno used universal symbols to evoke psychological dialogues that triggered the subconscious and invited free association.
This exhibition was curated by Louis Grachos.
An exhibition catalogue is available.
The exhibition was made possible by the American Argentine Cultural Foundation, Inc., New York, and Teleinformática, S.A., Buenos Aires.