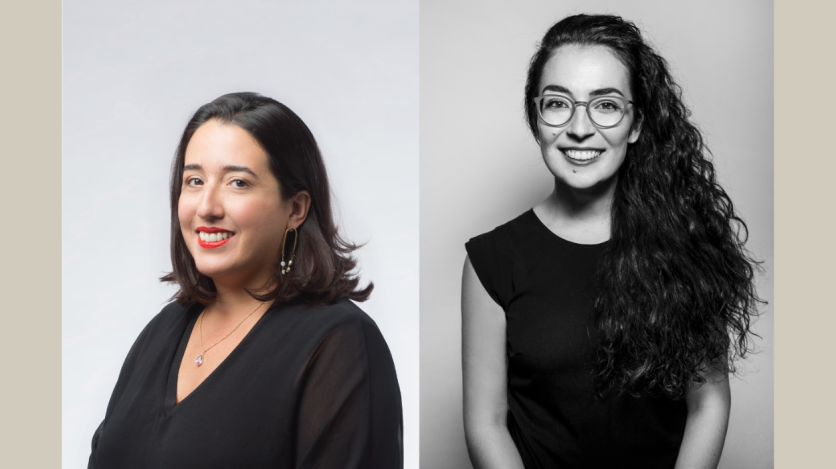 Marina Reyes Franco. (Image: Raquel Perez Puig); Ilaria Conti (Image: Daria Paladino)
On the Visitor Economy Regime: Marina Reyes Franco in Conversation with Ilaria Conti
In collaboration with ICI, Americas Society hosts curator Marina Reyes Franco to discuss her research and curatorial process with curator Ilaria Conti.
Overview
Join Marina Reyes Franco in conversation with Ilaria Conti, curator at the American Federation of Arts, for an event in conjunction with Reyes Franco's exhibition Tropical Is Political: Caribbean Art Under the Visitor Economy Regime, currently on view at the Americas Society in New York.
Join us in person on Thursday, December 8th, 2022 from 6:30 to 8:00 pm
Americas Society
680 Park Ave.
New York, NY
*Masks are encouraged at this event
The two curators will discuss Reyes Franco's research and curatorial process, delving into the connections between works in the show and their diverse reflections of what Reyes Franco terms the "visitor economy regime"—the unique amalgamation of tourism and finance that has profoundly impacted cultural production, identity, and policy across the Caribbean.
The result of expansive research undertaken across the Dominican Republic, Panama, the Bahamas, Jamaica, Trinidad, and in diasporic communities, partially through Independent Curators International (ICI)'s 2017 CPPC Travel Award for Central America and the Caribbean, Tropical is Political highlights ideas and experiences both specific to the Caribbean and translatable to global contexts in which natural and fiscal paradises coalesce. In this talk, Reyes Franco and Conti will explore how these ideas and curatorial framework can expand beyond the Caribbean to encompass other countries and regions contending with similar dynamics.
This program will take place in person at Americas Society on 680 Park Avenue, New York, NY.
Live ASL interpretation will be available at this event.
On the Visitor Economy Regime is presented in collaboration with Independent Curators International (ICI).
About the Panelists
Marina Reyes Franco is a curator at the Museo de Arte Contemporáneo de Puerto Rico (MAC). In 2010, she co-founded La Ene, an itinerant museum and collection. Recent projects include El momento del yagrumo and La llave / la clave, at MAC, San Juan; De Loiza a la Loiza, a MAC en el Barrio public art commission by Daniel Lind Ramos; Resisting Paradise, at Publica, San Juan and Fonderie Darling, Montreal; Watch your step / Mind your head, ifa-Galerie Berlin; The 2nd Grand Tropical Biennial in Loiza, Puerto Rico; Sucursal, MALBA in Buenos Aires, and numerous exhibitions at La Ene.
Ilaria Conti's curatorial work focuses on research-based artistic practices engaging with decolonial epistemologies and the relationship between institutional infrastructures, communal care, curatorial ethics, labor, and civic agency. Currently, she serves as Curator at the American Federation of Arts, advancing frameworks of decentralized and sustainable exhibition-making focused on contemporary art and social and cultural justice. Previously, she served as research curator at the Centre Pompidou for Cosmopolis, a multiyear platform devoted to research-based artistic practices and decolonial methodologies; as assistant curator of the 2016 Marrakech Biennale; and as Kress interpretive fellow at the Metropolitan Museum of Art, among other positions.
Funders
Major support for Tropical Is Political: Caribbean Art Under the Visitor Economy Regime in both Americas Society and MAC is provided by The Andy Warhol Foundation for the Visual Arts. The presentation of Tropical Is Political: Caribbean Art Under the Visitor Economy Regime is made possible in part by the National Endowment for the Arts; by public funds from the New York City Department of Cultural Affairs in partnership with the City Council; by the New York State Council on the Arts with the support of the Office of the Governor and the New York State Legislature; by Etant donnés Contemporary Art, a program from Villa Albertine and FACE Foundation, in partnership with the French Embassy in the United States, with support from the French Ministry of Culture, Institut français, Ford Foundation, Helen Frankenthaler Foundation, CHANEL, and ADAGP; and by the Smart Family Foundation of New York. Americas Society acknowledges the generous support from the Arts of the Americas Circle contributors: Estrellita B. Brodsky, Virginia Cowles Schroth, Emily A. Engel, Diana Fane, Galeria Almeida e Dale, Isabella Hutchinson, Carolina Jannicelli, Vivian Pfeiffer, Phillips, Gabriela Pérez Rocchietti, Erica Roberts, Sharon Schultz, Diana López and Herman Sifontes, and Edward J. Sullivan. The presentation of the exhibition at MAC in San Juan is made possible by support from the Teiger Foundation.