Tech Series Roundtable: Linkages between MNCs and SMEs Driving Growth and Competition in Latin America 
Americas Society
/
Council of the Americas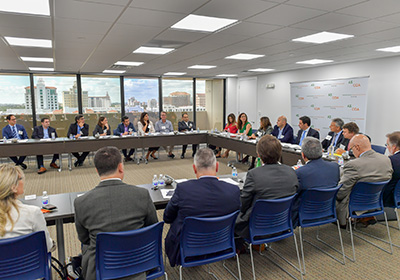 In partnership with  Florida International University's College of Business, AS/COA hosted a discussion and white paper launch on the linkages between multinational corporations (MNCs) and small and medium-sized enterprises (SMEs) driving growth and competition in Latin America. 
The discussion explored the types of synergistic linkages that enhance competitiveness, growth, and innovation throughout Latin America and presented the best practices for greater cooperation and collaboration between MNCs and SMEs in the region.
Speakers:
Steve Donovan, Head of Treasury & Trade Solutions, Citi Latin America
Jerry Haar, PhD, Professor and Executive Director, Office of Executive & Professional Education, College of Business, Florida International University
Pablo Signorelli, Vice President, Global Channels & General Business LAC, SAP
Romaine Seguin, President of UPS International, Americas Region
Sebastian Valverde, Managing Director, Google, SpLatam
Nancy Anderson Bolton, Senior Director, AS/COA Miami (moderator)
This program is part of AS/COA's Tech Series. For more information, please contact Francisco Martinez at fmartinez@as-coa.org or 305-779-4816.
Learn more about the white paper here. To download a copy, click here.