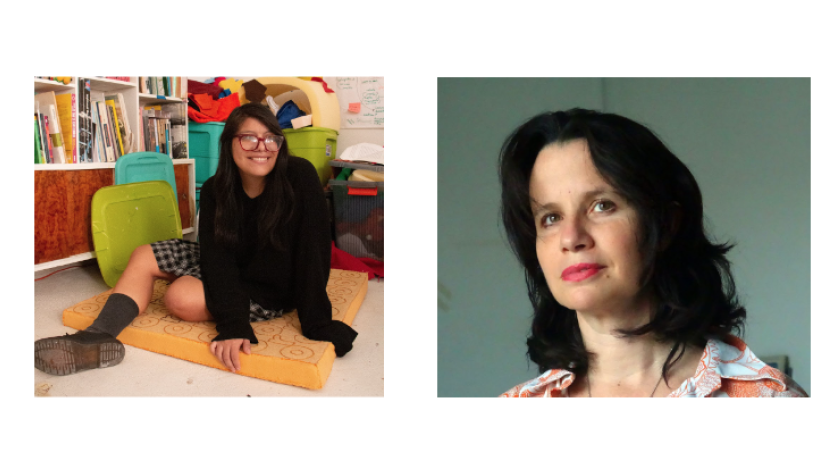 Wendy Cabrera Rubio (Image: María José Ordóñez, 2023), Ana María Millán (Image: Andres Sandoval Alba) (L-R)
In the Studio: Wendy Cabrera Rubio and Ana María Millán
Art at Americas Society hosts artists featured in El Dorado on Instagram Live to discuss their work and artistic practices in relation to the exhibitions.
Overview
Artists Wendy Cabrera Rubio and Ana María Millán will discuss their work and artistic practice with Aimé Iglesias Lukin, Director of Art at Americas Society and co-curator of our current exhibition, El Dorado: Myths of Gold. 
Join us on December 13, at 5 pm ET live on Instagram from your cell phone, or watch on YouTube after, for a series of remote visits to artists' studios to bring Americas Society's Visual Arts public programs to your home. Check out the series playlist. 
Speakers 
Wendy Cabrera Rubio explores the performativity of historical materials using research and fiction to create a theatrical space that allows her to make visible the relationships between aesthetics and ideology present in the mechanisms of production and distribution of images. Formally, she is exploring synthetic felt, a very accessible textile used in handicrafts. Due to its common use in domestic economies and its "playful" character, this material allows her to move away from the traditional visualizations of the archive, which allows her to show contradictions and generate links between the past and the present through discursive updating. 
Cabrera Rubio belongs to a generation that grew up parallel to the signing of the North American Free Trade Agreement (NAFTA) and the war against drug trafficking. The former gave her access to a global culture and a series of governments that financially stimulated art with Mexicanist echoes, as well as imported cultural products, and the latter marked the need to critique the symbols and policies of the national culture that led to such horrors. 
Cabrera Rubio's work arises from an interest in showing the fabric that unites images and instrumentality and frees representations from a linear narrative. She works with history–not in a historicist sense, but by dating the echoes that remain in the present. To do so, she exposes things as something accessible to touch and sensibility. The objects she works with have interchangeable parts that are activated by their theatrical and ventriloquist aspect. Thus, the apparent innocence of the embroidered figures of penguins, turtles and historical characters versioned as puppets, becomes the artist's commitment to elucidate and clarify key aspects of the postcolonial society in which we live. 
She studied her undergraduate degree at ENPEG "La Esmeralda" and later entered the SOMA Educational Program. 
Her work has been presented collectively at the Museo Universitario de Ciencias y Artes (Mexico City, Mexico), Museo Cabañas (Guadalajara, Mexico), Museo de Arte de Zapopan (Guadalajara, Mexico), Laboratorio Arte Alameda (Mexico City, Mexico), Ex-Teresa Arte Actual (Mexico City, Mexico), Museo de la Ciudad (Mexico City, Mexico), Sala de Arte Público Siqueiros (Mexico City, Mexico), el Colegio Nacional (Mexico City, Mexico), Museo de Santo Domingo (Oaxaca, Mexico) among others. And individually in; Kurimanzutto (Mexico City, Mexico), Peana, Biquini Wax EPS (Mexico City, Mexico), Museo Jumex (Mexico City, Mexico), La Embajada (San Juan, PR), Anonymous gallery (New York, USA) and Nordenhake gallery (Mexico City, Mexico). 
Cabrera Rubio was awarded the Jóvenes Creadores FONCA 2021-2022 grant in the Alternative Media category and the Untitled Art CCA Artist-in-Residence Prize. She has also performed various management tasks as a member of LADRÓN gallery from 2016 to 2019. The project was awarded the support to projects of the Patronato de Arte Contemporáneo in 2016 and 2018. 
She is currently part of the project of the Community Museum and Reading Club of Sierra Hermosa Zacatecas. She is a founding member of the curatorial collective rivera gallery doing projects in llano, Lodos gallery, Museo de la Ciudad de Querétaro and Material Art Fair, among others. 
Ana María Millán addresses the politics of animation and technique in relation to digital cultures and subcultures, violence, gender and propaganda. She has developed techniques based on role playing and reenactment as methodology to make a series of plays that end in the form of narrative films and video games. It speaks of amateur cultures, pop-political culture, sound territories, nature and technology incorporating the possibilities and mistakes of the rehearsals, and narrative forms considered dysfunctional. Her work has been shown in And we learn to keep the soil wet CARA, NY, 2023; 13th Gwangju Biennale, Minds Rising Spirits Tuning 2021; Art Encounters Biennial, Timișoara, Romania 2019; Kunstinstituut Melly (solo), Rotterdam; El ruido de las cosas al caer, FRAC Provence Alpes Côte d'Azur, Marseille 2017; Immortality for all, Savvy Contemporary , Berlin 2016; Frío en Colombia, Luis Caballero prize (solo), Archivo General de la Nación, Bogotá 2015; Ir para Volver, 12 Bienal de Cuenca, Cuenca 2014; ¿Tierra de Nadie?, Centro Cultural Montehermoso, Vitoria-Gasteiz 2011; AUTO-KINO! presented by Phil Collins, Temporäre Kunsthalle, Berlin 2009; Historias Colaterales, Centro Cultural de España, Guatemala 2008; I Still Believe in Miracles – part I, Musée d'Art Moderne de la Ville de Paris 2005.
Visit the Americas Society Visual Arts YouTube Channel for recordings of In the Studio Series and other previous events. 
Follow the conversation on Instagram: #IntheStudioAS | @artamericassociety
 More digital content from Visual Arts at Americas Society:
---
In the Studio series 
Check out previous conversations with artists bringing us to their virtual studios. 
Funders
The presentation of El Dorado and related programming has been made possible by generous support from the National Endowment for the Arts, by public funds from the New York City Department of Cultural Affairs and New York State Council on the Arts with the support of the Office of the Governor and the New York State Legislature. Additional support was provided by Furthermore: a program of the J. M. Kaplan Fund. 
Americas Society thanks Fundación PROA in Buenos Aires and Museo Amparo in Puebla for their collaboration in this project. 
Americas Society acknowledges the generous support from the Arts of the Americas Circle members: Amalia Amoedo, Almeida e Dale Galeria de Arte, Estrellita B. Brodsky, Virginia Cowles Schroth, Emily A. Engel, Diana Fane, Isabella Hutchinson, Carolina Jannicelli, Diana López and Herman Sifontes, Antonio Murzi, Gabriela Pérez Rocchietti, Marco Pappalardo and Cintya Poletti Pappalardo, Vivian Pfeiffer, Phillips, Erica Roberts, Sharon Schultz, and Edward J. Sullivan.