6:00 p.m.

Live broadcast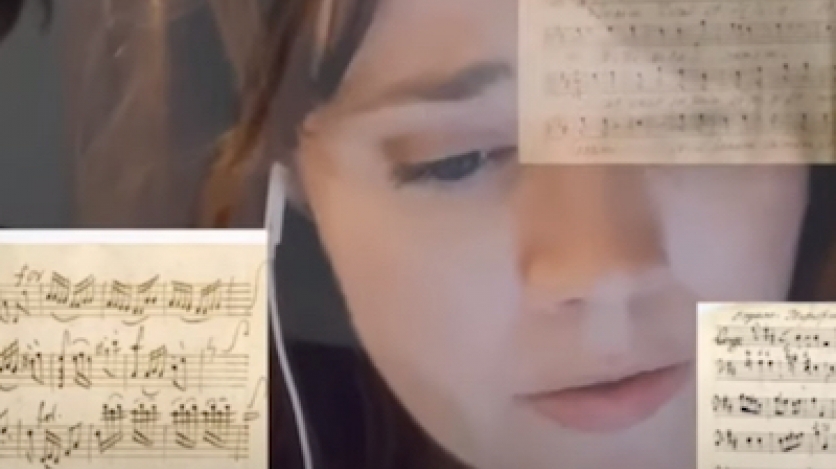 M. Quinn 
"Retumbe el Clarín": Meridionalis performs The Hispanic Society Music Collection
June 25, Meridionalis performs archival works from The Hispanic Society Music Collection.
Overview
Admission / Video Accessibility: Thank you for tuning into our live webcast event! We will have the recorded video available for viewing on this webpage soon. 
Music of the Americas presents members of Meridionalis (Americas Society's early music ensemble) as part of their historic concert series, Transatlantic Baroque Spanish Poets and Composers on Both Sides of the Atlantic, with Sebastián Zubieta conducting. This performance will include works from the archives of The Hispanic Society's Music Collection.
About the Performance
WELCOME
Mitchell A. Codding: Executive Director and President, Hispanic Society Museum & Library
&
Sebastián Zubieta: Music Director, Americas Society
 PROGRAM
¿Quién significa mejor?: Juan Hidalgo (1614- 1685)
Magnificat: Miguel Gómez Camargo (1618- 1690)
Conceptio gloriosae: Andrés Lorente (1624-1703)
¿Cómo podré yo de ti?: Andrés Navarro (s. XVII)
Salve del mar: Manuel de Egüez (1657- 1729?)
Salve Regina, esperanza: Bernardo Álvarez
Pastores de los montes: Anonymous
About the Artists
Established in 2010, Meridionalis is Americas Society's vocal ensemble, comprising leading singers from the NYC area and specializing in early and contemporary music from the hemisphere. The ensemble has been lauded for its "well-blended, joyous sound" and "beautifully rendered programs" by The New York Times. The mission of Meridionalis is to promote little-known and rarely performed repertoire, collaborating with expert musicologists and instrumental ensembles across the globe on programs of sacred and secular choral music. In 2019, Naxos released the ensemble's debut album, dedicated to the choral music of Argentine composer Pablo Ortiz. This season, Meridionalis continues its exploration of the extraordinary music included in the Hispanic Society's library and will release an internet version of Sergio Policicchio's production of Claude Vivier's chamber opera Kopernikus, which the group performed in Buenos Aires and New York.
The Hispanic Society of America was founded by Archer Milton Huntington in New York City on May 18, 1904, as a "free public library, museum and educational institution, containing objects of artistic, historic, and literary interest," for the purposes of the "advancement of the study of the Spanish and Portuguese languages, literature, and history, and advancement of the study of the countries wherein Spanish and Portuguese are or have been spoken languages."
The Hispanic Society Music Collection is one of New York City's best-kept secrets which deserves to be better known by the public. This archive of musical manuscripts is one of the largest dedicated to Spanish vocal music outside Europe and built upon the library of Federico de Olmeda, organist at the cathedral in Burgos in the nineteenth century and a distinguished scholar of his country's music. Olmeda's music library, acquired by the HSA in 1910, includes manuscripts and rare editions of scores and musical treatises from the fifteenth to nineteenth centuries. The library also contains other musical scores from Spain and the Spanish-American colonies that give it significant breadth.