Private Sector Roundtable: Implications of Blockchain in Latin America
Americas Society
/
Council of the Americas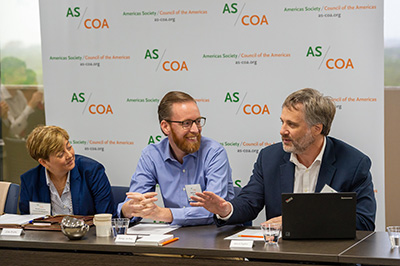 AS/COA hosted a private, off-the-record roundtable on the implications of blockchain in Latin America. The discussion addressed the benefits and opportunities of blockchain technology across various sectors, as well as the challenges in its implementation as it relates to doing business in the region.
Speakers:
Gabriel Angeloro, Connectivity Solutions Product Manager, Citi Latin America 
Silka Gonzalez, Founder and President, Enterprise Risk Management
Martijn van Rooij, Chief Operating Officer, FinConecta
Nancy Anderson Bolton, Senior Director, AS/COA Miami (moderator)
This program is part of AS/COA's Tech Series. For more information, please contact Francisco Martinez at fmartinez@as-coa.org or 305-779-4816.