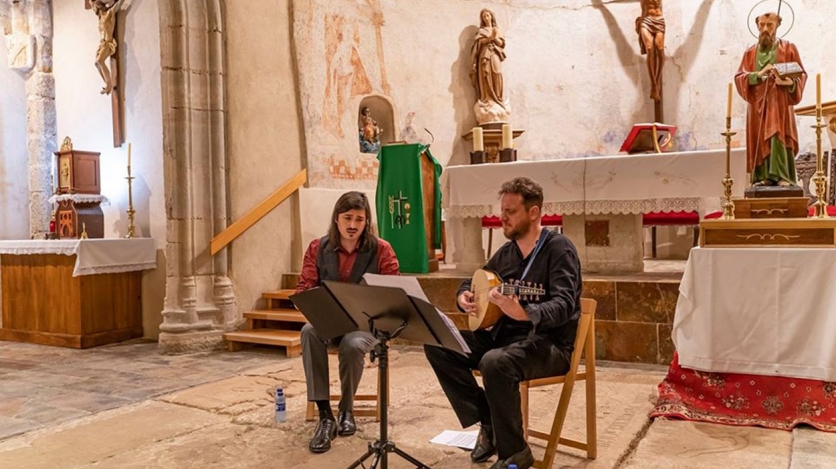 Jonatan Alvarado and Ariel Abramovich. (Image: Pablo Fernández Juárez) 
Jonatan Alvarado and Ariel Abramovich: Huehuetenango
The Argentine early music specialists explore sixteenth-century Guatemalan musical manuscripts. 
Overview
Program
Jonatan Alvarado is an Argentine singer and guitarist specializing in early music currently living in Spain. In collaboration with guitarist Ariel Abramovich (who appeared in our series a few seasons ago) Alvarado explores a beautiful, mysterious musical manuscript compiled in northwest Guatemala in the late sixteenth century. The manuscripts were used in Santa Eulalia, San Juan Ixcoi, and San Mateo Ixtatan in the department of Huehuetenango. Some of the pieces are signed by maestros de capilla Francisco de León and Tomás Pascual, and there are also anonymous pieces alongside compositions by the popular European composers of the time, including Claudin de Sermissy and Philippe Verdelot. 
This program explores the repertoire through a dialogue with contemporary European collections, including the famous Cancionero de Upsala, the tablature collections by Pierre Attaignant, with special emphasis on pieces that are exclusive to the Guatemalan books.
Biographies
Alvarado started studying guitar in his native Mercedes in the province of Buenos Aires, and studied also composition and conducting in the Universidad Nacional de La Plata, where he became familiar with early music. He graduated in voice and lute from the Conservatorium van Amsterdam, where he studied with Rebecca Stewart. Alvarado is music director and co-founder of the ensemble Seconda Prat!ca, dedicated to renaissance and early baroque Latin American music, and founding member of Da Tempera Velha, a group specializing in Spanish early music. He collaborates frequently with early musci ensebles such as La Chimera, Club Medieval, Sollazzo Ensemble, and Armonia Concertada. He has appeared in the most important European stages, including the Ambronay, Sablé, Royaumont, Laus Polyphonie Antwerp, Utrecht, Estocolmo, and Resonanzen Vienna Festivals, among others. His first solo CD, Pajarillos Fugitivos, weas released by Ayros and nominated to the International Classic Music Awards. Upcoming recordings include the debut of Da Tempera Velha, which will revisit the famous Cancionero de Palacio, and an album dedicated to early 20th-century Argentine popular music with Jessica Denys.
A native of Buenos Aires, Abramovich began studying guitar in his teens and later discovered his passion for jazz and popular Latin American music under the tutelage of Norberto Pedreira, Quique Sinesi, and Miguel de Olaso, who exposed him to Renaissance music. While still a teenager, he devoted himself exclusively to the repertoire for lute and sixteenth-century vihuela, with Dolores Costoyas and Eduardo Egüez. In 1996 he moved to Switzerland to study with Hopkinson Smith at the Schola Cantorum Basel. In 1998 he founded the duo El Cortesano with alto José Hernández-Pastor. In 2008 Abramovich embarked upon a duo project with leading British early music tenor John Potter, revisiting English lute song from the late sixteenth to the early seventeenth century. Over the last few years, they have presented numerous performances throughout Europe with several programs, culminating in a recording of their own arrangements of Renaissance vocal polyphony (ECM, 2011). In 2013, he founded the duo "Armonía Concertada" with María Cristina Kiehr, dedicated to sixteenth-century Italian and Spanish music for voice and plucked strings. The duo's first album, Imaginario: de un libro de música de vihuela, appeared in 2019. With Jacob Heringman he has released Cifras Imaginarias, an album dedicated to lute and vihuela tablatures. Abramovich is also a member of Da Tempera Velha. Since relocating to Seville in 2000, Abramovich has dedicated his focus to these collaborative projects: he has presented programs with French lutenist Eugène Ferré, Scandinavian soprano Anna Maria Friman, flutist and director Michael Form, and Argentine lutenists Evangelina Mascardi, Mónica Pustilnik, and Dolores Costoyas, among others. 
This concert is part of GEMAS, a project of Americas Society and Gotham Early Music Scene devoted to early music of the Americas.

Funders
The MetLife Foundation Music of the Americas concert series is made possible by the generous support of Presenting Sponsor MetLife Foundation. The Spring 2021 Music program is also supported, in part, by public funds from the New York City Department of Cultural Affairs in partnership with the City Council.