Registration: 5:00 p.m. to 5:30 p.m.
Panel Discussion: 5:30 p.m. to 7:00 p.m...

Live broadcast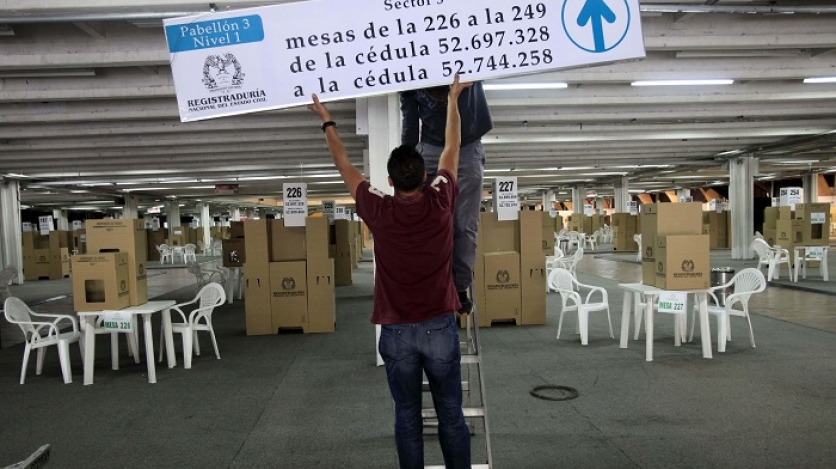 (AP)
Colombia Elections Outlook: Challenges for the Next Administration
Join AS/COA on May 9 as experts discuss what's in store for Colombia in 2018 and beyond.
Overview
Follow the discussion on Twitter: #ColombiaDecide | @ASCOA
Colombians head to the polls on May 27 to pick a new president. Regardless of who wins the likely runoff in June, though, the incoming administration will face a unique period in the country's history. The peace deal with the Revolutionary Armed Forces of Colombia (FARC) has granted much needed stability, however, its implementation remains a challenge, and the country is deeply polarized. Panelists will analyze the main economic, security, and political challenges the new government will need to confront, taking into consideration the platforms of each presidential candidate. Join a group of experts as they discuss the country's outlook in 2018 and beyond.
Check out our guide to Colombia's 2018 elections.
Panelists:
Richard Francis, Director of Sovereign Ratings, Fitch Ratings
Diego García-Devis, Senior Program Officer, Open Society Foundations
Muni Jensen, Senior Advisor, Albright Stonebridge Group
Adriana La Rotta, Senior Director, Media Relations, Americas Society and Council of the Americas (moderator)
Registration: This event is complimentary for all AS, COA, Chairman's Council, President Circle, and YPA members;
$15 for all nonmembers. Prior registration is required.
Event Information: Rodrigo Riaza | rriaza@as-coa.org | 1-212-277-8376
Sponsorship Opportunities: Ana Calderon | acalderon@as-coa.org | 1-212-277-8358
AS Individual Membership Information: Beckie Bintrim | bbintrim@as-coa.org | 1-212-277-8342
COA Corporate Membership Info: Natalia Williamson | nwilliamson@as-coa.org | 1-212-277-8374
Note: To view a list of COA corporate members, please click here.
Press Inquiries: mediarelations@as-coa.org
Cancellation: Please contact Juan Serrano-Badrena at jserrano@counciloftheamericas.org before 3:00 p.m. on Tuesday, May 8.