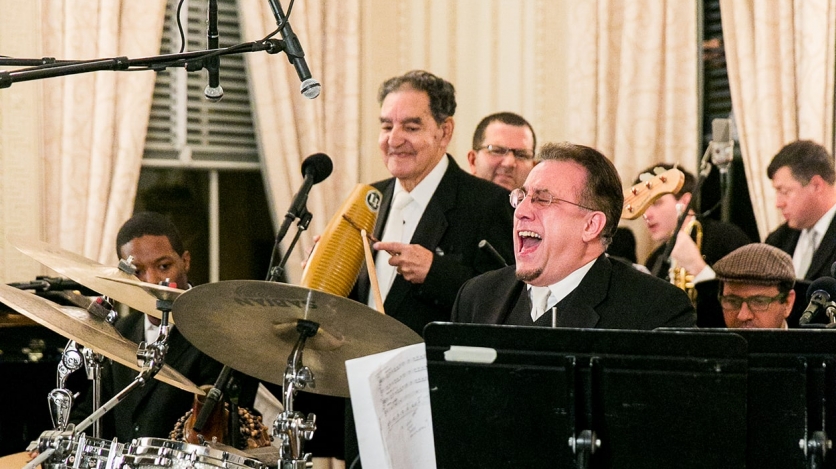 Bobby Sanabria and his Big Band at Americas Society. (Image: Roey Yohai Photography)
Bobby Sanabria and the Multiverse Big Band
Grammy-nominated drummer Bobby Sanabria performs with the Multiverse Big Band.
Overview
Admission Fee: FREE for AS Members; $20.00 for non-members. No additional fees will be charged when purchasing online. Tickets will also be available at the door.
Not yet a member? JOIN NOW!
Grammy-nominated drummer Bobby Sanabria performs with the Multiverse Big Band featuring Louis Armstrong Foundation Scholarship winner and Manhattan School of Music graduate student Patrick Bartley on alto sax and clarinet.
Click here for a PDF version of the printed program.
Bobby Sanabria is a drummer, percussionist, composer, arranger, recording artist, producer, filmmaker, conductor, educator, and multiple Grammy nominee. He has performed with a veritable who's-who in the world of jazz and Latin music, as well as with his own critically acclaimed ensembles. His diverse recording and performing experience includes work with legendary figures of the jazz and Afro-Cuban jazz styles, including Mario Bauzá. The son of Puerto Rican parents, Sanabria was born in the South Bronx. Inspired by fellow New York-born Puerto Rican Tito Puente, Sanabria attended Boston's Berklee College of Music from 1975 to 1979, obtaining a Bachelor of Music degree and receiving their prestigious Faculty Association Award for his work as an instrumentalist. Sanabria has become a leader in the Afro-Cuban, Brazilian, and jazz fields as both a drummer and percussionist, and is recognized as one of the most articulate musician-scholars of la tradición living today. He has been featured on numerous Grammy-nominated albums, including The Mambo Kings and other movie soundtracks, as well as television and radio work. Bobby has been the recipient of many awards, including an NEA grant as a jazz performer and various Meet the Composer awards. Sanabria is on the faculty of the Manhattan School of Music since 1999, where he directs the Afro-Cuban Jazz Orchestra, one of the few such ensembles in conservatories in the country. Sanabria's invited artists will be selected from among current students and recent alumni of the program. His current new big band CD released in August of 2012 on the Jazzheads label is entitled Multiverse. Inspired by the writings of Mexican author Octavio Paz and current scientific theories of multiple universes, it blurs the boundaries between jazz, Latin, funk, rock, R&B, gospel, the avant-garde, and even rap. It features spoken-word artist La Bruja in an amazing fusion of spoken word/rap big band Latin jazz tribute to the father of Afro-Cuban jazz Mario Bauzá, and award winning vocalist Charenee Wade in Over The Rainbow. Multiverse has been nominated for two Grammys, giving Sanabria a total of seven nominations for the coveted award. 
BOBBY SANABRIA MULTIVERSE BIG BAND
RHYTHM:
Bobby Sanabria - musical director, drums, percussion, vocals
Hiram "El Pavo" Remon - lead vocals, percussion
Orestes Abrantes - congas, vocals, percussion
Matthew Gonzalez - bongo/cencerro, barril de bomba, percussion
Enrique Haneine - piano
Leo Traversa - electric bass
SAXOPHONES:
David Dejesus - lead alto, soprano, clarinet, flute
John Beaty - alto, clarinet, flute
Peter Brainin - tenor, flute
Jeff Lederer - tenor, flute
Danny Rivera - bari, bass clarinet
TRUMPETS:
Kevin Bryan - lead
Shareef Clayton
Max Darche'
Cameron Johnson
TROMBONES:
Tim Sessions - lead
St. Clair Simmons
Joe Beaty
Chris Washburne - bass trombone, tuba
SPECIAL GUEST:
Patrick Bartley - alto, soprano sax