Registration: 5:30 p.m. to 6:00 p.m.
Panel and Reception: 6:00 p.m. to 8:00...

Live broadcast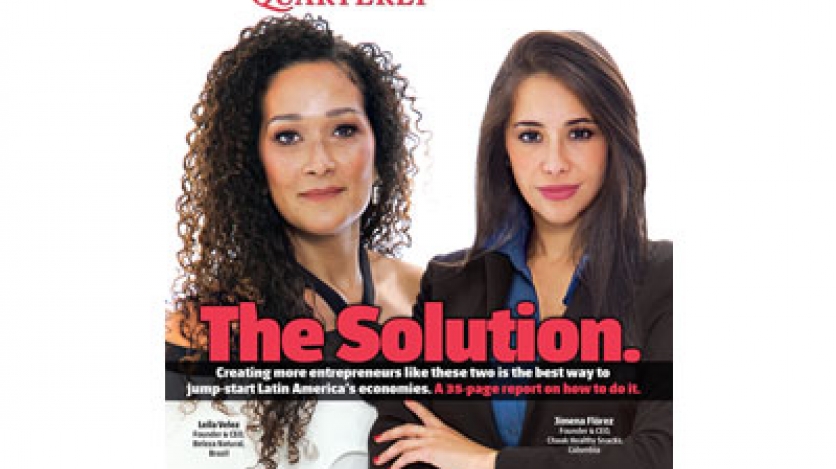 Americas Quarterly Launch Event: Empowering Entrepreneurs in Latin America and Beyond
Join Americas Quarterly as we celebrate Latin America's entrepreneurial superstars and launch our first issue of 2017.
Overview

Follow the discussion on Twitter: #AQentrepreneurs | @AmerQuarterly
Latin America has the world's strongest entrepreneurial culture, with 89 percent of young people saying in a recent poll they want to start their own business. Whether they live in Buenos Aires, Caracas, Mexico City, or Miami, more can be done to help entrepreneurs achieve their dreams and drive growth and competitiveness in their economies. This unique event will launch the latest issue of Americas Quarterly—the leading magazine on politics, business, and culture in Latin America—which features successful young entrepreneurs from across the region. Speakers will address the challenges of how to improve access to finance, identify influential mentors, make starting a business easier, and ensure greater participation of women in technology. Don't miss this great opportunity to meet inspiring entrepreneurs, as well as mentors and supporters who ensure others like them can thrive.
Speakers:
Registration: This event is complimentary for all registrants, though prior registration is required.
Event Information: Beckie Bintrim | bbintrim@as-coa.org | 1-212-277-8372
Press: mediarelations@as-coa.org
Cancellation: Contact Juan Serrano-Badrena at jserrano@counciloftheamericas.org before 3:00 p.m. on Wednesday, February 15.
Visit AQ Online: AmericasQuarterly.org
Follow AQ on Facebook: facebook.com/AmericasQuarterly
In Partnership With:
Agenda
Agenda
6:00 to 6:05 p.m.   Opening remarks
Leandro Finol, Founder & Executive Director, The Idea Center at MDC
Brian Winter, Editor-in-Chief, Americas Quarterly
6:05 to 6:30 p.m.   Conversation
Matt Haggman, Miami Program Director, Knight Foundation
Susan Segal, President & CEO, Americas Society/Council of the Americas
6:30 to 7:15 p.m.   Panel discussion
Silvina Moschini, Founder, SheWorks! and Yandiki; Contributing Expert, CNN en Español
Jimena Flórez, Founder, Chaak Healthy Snacks; Americas Quarterly Top 5 Young Entrepreneur
Felipe Sommer, President & Co-Founder, Nearpod
Susan Segal, President & CEO, Americas Society/Council of the Americas
Brian Winter, Editor-in-Chief, Americas Quarterly (Moderator)
7:15 to 7:35 p.m.   Fireside chat (one-on-one interview)
Andrés Moreno, Founder & CEO, Open Education, holding company for Open English & NextU
Brian Winter, Editor-in-Chief, Americas Quarterly
7:35 to 8:00 p.m.   Reception
Watch & Listen