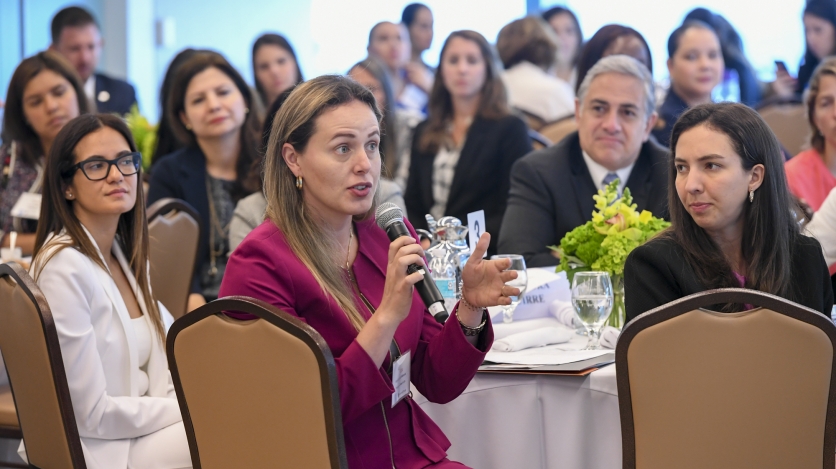 (Image Credit: Grupo Gort)

7th Women's Hemispheric Network Forum: Miami
The June 17 forum focuses on well-being in the workplace, women driving crypto and fintech innovation, and harnessing confidence at work. 
Overview
Please join us for our seventh AS/COA Women's Hemispheric Network (WHN) Forum in Miami. This year's event will bring together business and community leaders for a keynote presentation, two panel conversations and a workshop, followed by table leaders discussions, and a networking reception.
Opening Keynote & Q+A: Being an Ally. Voces de E! Amplifying Women's Voices 
Marcello Coltro, Senior Vice President, Affiliates, Marketing & Creative, NBCUniversal Media
Panel I: The Three W's—Women and Well-Being in the Workplace
The pandemic caused a seismic shift in the global workforce, sparking terms like the "Great Resignation" and "the Great Reshuffle." More than two years into Covid, employees are reassessing their value equation when it comes to work, and well-being has become a key aspect of that. According to Microsoft's Work Trend Index 2022, 56 percent of women surveyed say they're more likely now to prioritize their health and wellbeing over work than before. According to Deloitte's Women @ Work 2022: A Global Outlook, 53 percent of women say their stress levels are higher than they were a year ago. Burnout was cited by 40 percent of women actively looking for a new employer as the reason they're pursuing a job change. In the post-Covid world, companies must factor in well-being—understanding their employees as whole individuals—to attract and retain the best talent.
Jennifer Boussuge, Managing Director, Global Banking Operations, Bank of America
Alvaro Cardenas, President, Latin America & Caribbean, Diageo
Svetlana Kropp, Global Vice President, Customer Engagement & Experience, SAP
Marcela Pizzi, Chief People and Communications Officer, Atlas Renewable Energy
Agostina Pechi, Managing Director and Head of Emerging Markets and Commodities Local Sales and Latin America Structured Credit Sales, Goldman Sachs (moderator)
Panel II: Women Leading Crypto & Fintech
As crypto expands and gains more relevance in the financial and business world, it's clear that it is a male-dominated industry. A Pew Research Center survey found that only 19 percent of women ages 18-29—compared with 43 percent of men in that age range—have invested in, traded, or used a cryptocurrency. Moreover, there is a striking gap in the number of women vs. men working in this growing industry. Given the potential for digital currencies to transform financial systems, women need a space to lead, develop, and invest in the sector. Despite initial challenges, leaders and organizations are dedicated to creating opportunities to improve diversity and inclusion in the crypto space. 
Stefany Bello, Vice President, Digital Partnerships, Latin America and the Caribbean, Mastercard
Renée Julian, Manager, Blockchain Intelligence & Investigations, Meta
Natalia Karayaneva, CEO, Propy 
Filomena Ruffa, General Manager, Latin America, Crypto.com 
Marina Olman-Pal, Shareholder, Greenberg Traurig, LLP (moderator)
Workshop & Table Leaders Session
What is wrong with being confident? Harness your confidence as a positive force in the workplace.
Rafael Barrera Renault, Executive Vice President, Chief Human Resources Officer, City National Bank 
Stephanie Rice, Senior Vice President, Director of Talent Attraction and Culture, City National Bank
Follow the discussion on Twitter: #womenASCOA | @ASCOA
RSVP: Francisco Martinez | rsvpmiami@as-coa.org (This program is by invitation only). 
Program Information: Yndira Marin |  ymarin@as-coa.org
Sponsorship Opportunities: Mercedes Fernandez | mfernandez@as-coa.org & Francisco Martinez | fmartinez@as-coa.org
Press Inquiries: MediaRelations@as-coa.org | 212-277-8384 | 212-277-8333