Registration and Continental Breakfast: 8:00 a.m. to 8:30 a.m.

Panel Disc...

Live broadcast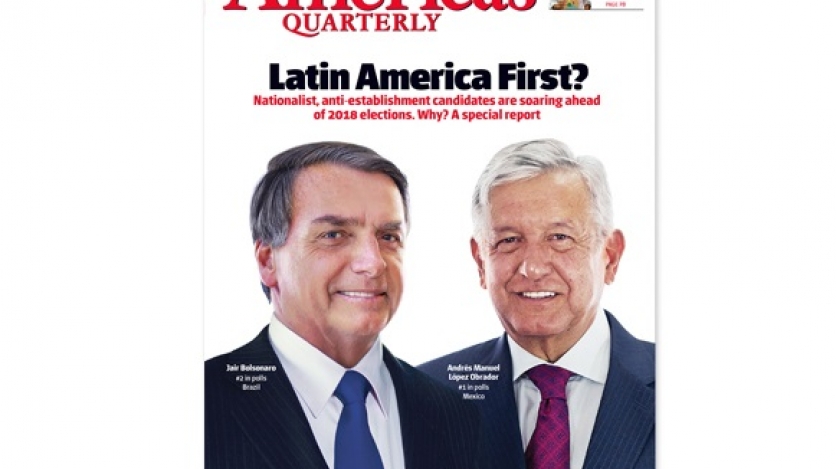 2018 Elections in Latin America: Americas Quarterly Launch Event
AQ will launch its new issue with a discussion on the potential political and economic impacts of the 2018 elections on February 13.
Overview
Follow the conversation on Twitter: #AQelex | @AmerQuarterly
Two out of three Latin Americans will choose a new president in 2018. At the launch of Americas Quarterly's new issue, experts and investors will dissect the risks and opportunities that the elections will bring in Brazil, Mexico, Colombia, and elsewhere. Corruption will be the defining issue everywhere. Will voters seek to blow up the establishment and join the rising nationalist trend seen worldwide? Join us for a discussion on the most important and volatile electoral year in recent Latin American history, and its potential impact on the region's economies.
Speakers:
Luisa Palacios, Managing Director for Latin America, Medley Global Advisors
Gerardo Rodriguez, Managing Director of Emerging Markets group, BlackRock, Inc. @g_rodriguez_r
Roberto Simon, Director for Latin America, FTI Consulting @robertosimon
Brian Winter, Editor-in-Chief of Americas Quarterly; Vice President of Policy at AS/COA @BrazilBrian
Vivianne Rodrigues, Latin America Managing Editor, Economic & Political coverage, Bloomberg News (moderator) @Viv_Rod13
 
Online registration is now closed. You may still register at AS/COA, on Tuesday, Februray 13, starting at 8:00 a.m.—space permitting. 
Any other questions, contact Juan Serrano-Badrena at jserrano@counciloftheamericas.org. 
Entry is complimentary for AS, COA members and current Americas Quarterly subscribers, who should email AQevents@as-coa.org to RSVP.
For others, admission is $20, which includes a special discounted one-year subscription to Americas Quarterly.
 
Event Information: Emilie Sweigart | esweigart@as-coa.org | 1-212-277-8390
Press Inquiries: mediarelations@as-coa.org
Cancellation: Please contact Juan Serrano-Badrena at jserrano@counciloftheamericas.org before 3:00 p.m. on Monday, February 12.
Visit AQ Online: AmericasQuarterly.org
Follow AQ on Facebook: facebook.com/AmericasQuarterly
Follow AQ on Twitter: twitter.com/AmerQuarterly