Registration: 8:00 a.m. to 8:30 a.m.

Conference: 8:30 a.m. to 12:10 p.m....

Live broadcast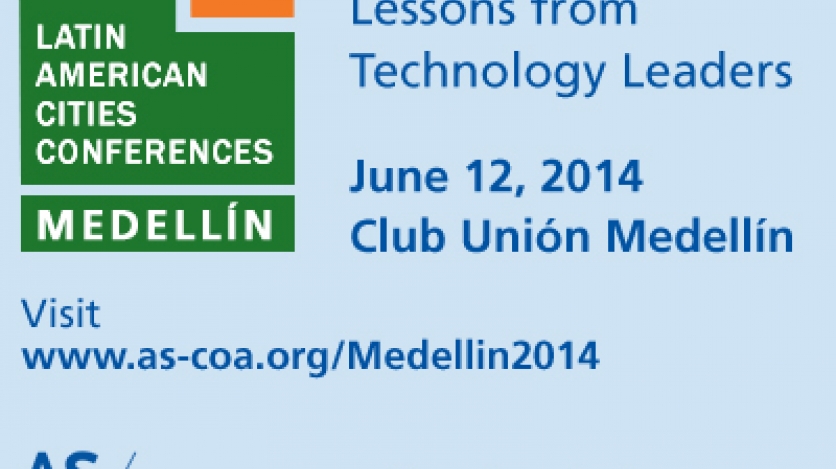 2014 Latin American Cities Conferences: Medellín
Watch videos and read recaps: technology leaders shared their views on how innovation is shaping Colombia and Latin America overall.
Overview
MORE JOBS AND MORE GROWTH: LESSONS FROM TECHNOLOGY LEADERS

In collaboration with Endeavor Colombia and EPM
Selected as the world's "Innovative City of the Year" in 2012 by a Citi/Urban Land Institute/Wall Street Journal contest, Medellin is one of the most vibrant cities in Latin America today and a success story being examined by policymakers worldwide. Partnerships between the public and private sectors have helped modernize Medellin, while fostering social inclusion and innovation in the once crime-ridden capital.
Americas Society/Council of the Americas brings its Latin American Cities Conferences Series to Medellin for the first time. A panel with representatives from leading technology companies will discuss recent cases of technology adaption as well as challenges for innovation in Colombia and Latin America.
Speakers:
Santiago Rojas, Minister of Trade, Industry, and Tourism
Diego Molano, Minister of Information Technologies and Communications
Aníbal Gaviria, Mayor, Medellin
Natalia Estefania Botero, Journalist, El Colombiano
Andres Giolito, Country Manager, Globant Colombia
César Giraldo, Deputy Editor, Portafolio
Hernán Rincón, President, Microsoft Latin America 
José Antonio Ríos, Chairman and CEO, Celistics
Joel Schwartz, Senior Vice President and General Manager, EMC
Susan Segal, President and CEO, Americas Society/Council of the Americas
Victor Traverso, Director and Representative, CAF, Colombia
Claudia Vasquez, Vice President, CA Technologies
Note: This event is free of charge. Prior registration is required.
Registration is NOT required to view the webcast.
Follow the conference on Twitter at @ASCOA and #TechMedellin
Event Information: Guillermo Zubillaga | gzubillaga@as-coa.org | 1-212-277-8362
Sponsorship Opportunities: María Otero | mgarciaotero@as-coa.org  | 1-212-277-8373
COA Corporate Membership Information: Monica Vieira | mvieira@as-coa.org | 1-212-277-8344
Press Inquiries: Adriana La Rotta | alarotta@as-coa.org | 1-212-277-8384
Agenda
Agenda
8:00 – 8:30 a.m.         Networking Coffee and Registration
8:30 – 9:15 a.m.         Welcome Remarks
Susan Segal, President and CEO, Americas Society/Council of the Americas
Victor Traverso, Director and Representative, CAF, Colombia
Aníbal Gaviria Correa, Mayor, Medellin
9:15 – 9:40 a.m.         Keynote Speech
Santiago Rojas, Minister of Trade, Industry, and Tourism
9:40 – 10:25 a.m.       Interview
Hernán Rincón, President, Microsoft Latin America
César Giraldo, Deputy Editor, Portafolio (Interviewer)
10:25 – 11:40 a.m.     Panel: More Jobs and More Growth: Lessons from Technology Leaders
José Antonio Ríos, Chairman and CEO, Celistics
Joel Schwartz, Senior Vice President and General Manager, EMC
Andres Giolito, Country Manager, Globant Colombia
Claudia Vazquez, Vice President, CA Technologies
Natalia Estefania Botero, Journalist, El Colombiano
11:40 a.m – 12:10 p.m.     Closing Remarks
Diego Molano Vega, Minister of Information Technologies and Communications