Poll Update: Panama's Ruling-Party Candidate ahead in Possible Close Race
José Domingo Arias leads, but some surveys show a narrow gap with his main contender as the May 4 presidential election nears.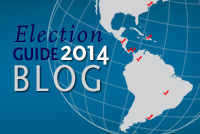 Panama's national election takes place May 4, and the governing-party candidate leads polls in the race for the presidency. Still, some surveys show the frontrunner in a tight race or his top rival making gains.
One poll published this week by pollsters Dichter & Neir has José Domingo Arias of the ruling Democratic Change (CD) party with 39 percent of voter intention. That gives the former housing minister a seven-point lead over his top rival, Juan Carlos Navarro, ex-mayor of Panama City and candidate for the Democratic Revolutionary Party. But an Ipsos poll also released this week shows just a two-point difference, with Arias at 33 percent and Navarro at 31 percent. Both polls put Vice President and Panameñista Party candidate Juan Carlos Varela trailing in third at 26 percent.
Also a candidate in the last election, Varela joined current President Ricardo Martinelli's ticket at the time and became the foreign relations minister, but the two had a falling out in 2011, when the president sacked Varela from his ministerial role during a dispute over electoral reform. This time around, the CD candidate didn't split the ticket with another party; Arias' partner in the race is First Lady Marta de Martinelli. The Dichter & Neir poll found that 56 percent of respondents consider her candidacy as vice president a form of reelection "in disguise" (presidents must sit out two terms before seeking to hold the top office again.). The same poll gives the president an approval rating of 63 percent, but Ipsos has the number at just 44 percent.
There is no runoff vote for Panama's presidency, so whoever wins a relative majority of ballots will take over for a five-year term on July 1. But even though Arias holds the lead, this election's not over yet, as the Ipsos poll shows. Moreover, La Prensa's "Ruta 2014" maps out how Quantix Panama polls have Navarro gaining each month, with Arias' lead narrowing from over 10 points in December to 5.6 points in March.
This month's Quantix survey forecasts that 2 percent of ballots will be en blanco (left blank or destroyed) and showed that 2.4 percent of people polled either did not respond or remain undecided. Ipsos finds that 89 percent of its poll respondents plan to vote come May 4.