With Zelaya's Return Prevented, Arias Steps Up as Mediator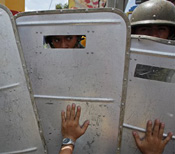 Updated July 7 - After anticipation over what would transpire if ousted President Manuel Zelaya returned to Tegucigalpa, Hondurans were left waiting on Sunday to find out how their national crisis would be resolved. The leader, deposed in what has widely been called a coup, flew from Washington on July 5 with the goal of retaking office. But the interim government parked military vehicles on the capital's runway to prevent the Venezuelan-owned airplane from touching down. The day was not without bloodshed: Thousands of Zelaya supporters marched to the airport and, as the deposed leader's plane neared, authorities opened fire and used tear gas on protesters. At least one casualty was reported.
With tensions coming to a head, leaders appear closer to mediating a solution. In the days after the standoff at the airport, Zelaya continued what has been a week of touring the Americas in search of a solution to the crisis. After heading to Nicaragua and then El Salvador, he returned to Washington, where he met with Secretary of State Hillary Clinton. In a press conference after the meeting, she confirmed what media outlets were already reporting: that Costa Rican President Oscar Árias will serve as a mediator. U.S. President Barack Obama, speaking during a trip in Moscow, again voiced support for Zelaya's reinstatement, despite that leader's differences with Washington. Interim President Roberto Micheletti will also head to Costa Rica. In a new blog post for Americas Quarterly, Eric Farnsworth argues that the mediation rather than U.S. sanctions will help solve the problem. He adds: "[I]t's interesting that when push came to shove, [Zelaya] decided that the road for his return to Tegucigalpa went through Washington, not Caracas, Buenos Aires, or Brasilia."
Members of the Honduran military under order of the country's Supreme Court awoke Zelaya at gunpoint early in the morning on June 28 and forced him to leave the country in his pajamas. The move came after Zelaya and his supporters planned to go ahead with a referendum deemed illegal by the country's main institutions and that would have paved the way for constitutional reform and possible presidential reelection. His opponents say Zelaya, a leader with low approval ratings, veered increasingly toward the left to follow in the footsteps of Venezuela's Hugo Chávez. Since the overthrow, debate grew over whether what occurred could be considered a coup and the legality of Zelaya's forced exile. 
Diplomatic efforts to halt the crisis failed ahead of Zelaya's planned return. Governments across the Western Hemisphere along with multilateral bodies refused to recognize the interim government. The UN General Assembly approved a resolution on June 30 calling for the restoration of Zelaya. A countdown was then set by an OAS resolution on July 1 that demanded Honduras restore Zelaya to his office within 72 hours or face expulsion. With the OAS deadline looming, the agency's Secretary-General José Miguel Insulza headed to Tegucigalpa on Friday in an attempt to negotiate Zelaya's return, only to be rebuffed by the Honduran Supreme Court. After Insulza's departure, Honduras' interim government preempted its OAS expulsion by saying it did not recognize the multilateral body. Inzulza described the interim government as "inflexible" and the OAS expelled Honduras, marking the first time the agency kicked out a member since it did so to Cuba in 1962. Zelaya, who had pledged to wait out the OAS deadline, planned his return for Sunday.  Micheletti countered by saying Zelaya would be arrested upon setting foot in the country. In a national address, the Honduras' Cardinal Óscar Andrés Rodriguez urged Zelaya not to return in order to avoid a "bloodbath." A letter from the Honduran Catholic Church called for sticking to the scheduled election date in November and defended the coup. As the crisis continues, the Central American country finds itself increasingly isolated. Several countries have withdrawn ambassadors. The isolation has been economic as well as diplomatic in nature: The World Bank and Inter-American Development Bank froze lending; neighboring countries closed their borders to trade, costing the region $61 million according to the Honduran private business council; and Venezuelan President Hugo Chávez ordered an end to oil shipments to Honduras. Such economic ramifications are of no small concern for Honduras, which registered a poverty rate of nearly 69 percent in 2007, according to figures by the UN Economic Commission for Latin America and the Caribbean (ECLAC/CEPAL) .
Writing for the Americas Quarterly blog, COA's Eric Farnsworth urges for "cooler heads to prevail" in Honduras. He suggests moving up the election date to the end of July or August and holding an inauguration shortly thereafter to defuse the crisis. Learn more: