Zelaya Makes Surprise Entrance in Honduras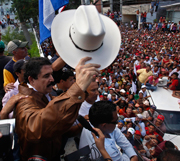 Deposed President Manuel Zelaya made a surprise return to Honduras Monday to reclaim office. After a period of confusion during which de facto head of state Roberto Micheletti refuted the overthrown leader's presence, photos circulating on the Internet proved Zelaya's location: the Brazilian Embassy in Tegucigalpa. He said he "evaded a thousand obstacles" to arrive and that he sought reconciliation. Brazil's Foreign Minister Celso Amorim claimed his government was not involved in facilitating Zelaya's arrival but he suggested the turn of events should help push dialogue forward.
Micheletti didn't seem to think so. In televised remarks, he declared that Zelaya's arrival "does not change our reality." The interim leader went on to describe the June 28 overthrow as legal and say Zelaya's return meant he must face justice, demanding Brazil turn him over. Micheletti also lost no time in penning a Washington Post op-ed in which he said "the people of Honduras have moved on." Just to make sure, the de facto government imposed a curfew beginning at four in the afternoon.
With tensions heightened in Honduras, the Organization of American States (OAS) held an emergency meeting September 21. After debating a resolution, members urged the "immediate signing" of the San José Accord, a 12-point plan charted by Costa Rican President Óscar Arias allowing for Zelaya's return and creating a coalition government ahead of November 29 elections. OAS Secretary-General José Miguel Insulza also expressed a willingness to travel to Honduras as a mediator.
Thus far, OAS involvement has not brought about a solution to the three-month-old impasse over Honduras' political future. Nor have Zelaya's attempts to return. In the weeks after the military forced him to leave the country in his pajamas, the deposed leader spent hours circling Tegucigalpa's airport on one occasion and briefly ducked across the border in July. The related media frenzies and the latest round of drama led AS/COA's Christopher Sabatini to compare Zelaya to "Paris Hilton" in a new Americas Quarterly blog post. "[I]n the absence of any formal diplomatic solution, Zelaya went goofy," writes Sabatini.
Countries across the Western Hemisphere and the European Union labeled Zelaya's June 28 removal a coup even as the de facto government argued that Zelaya planned to hold a referendum deemed illegal by the Supreme Court. Honduras has found itself increasingly isolated and seen foreign aid slashed while several countries—including the United States—declared their unwillingness to recognize upcoming elections if overseen by the Honduran government.
The latest developments unfold as world leaders gather in New York this week for the UN General Assembly. Zelaya had been scheduled to speak Wednesday. With the outcome of his embassy stay uncertain, U.S. Secretary of State Hillary Clinton and Costa Rica's Arias appeared together at the Waldorf-Astoria. Clinton urged communication between both sides and peaceful resolution. Arias, meanwhile expressed hope for the San José Accord: "[T]he main difficulty has been Zelaya's return. Now that he's back, it's going to be much easier."
Learn more: