Xul Solar and Jorge Luis Borges: The Art of Friendship
Available for purchase, the catalogue Xul Solar and Jorge Luis Borges: The Art of Friendship documents the eponymous exhibition at Americas Society.
SOLD OUT!
Co-presented by Americas Society and Museo Xul Solar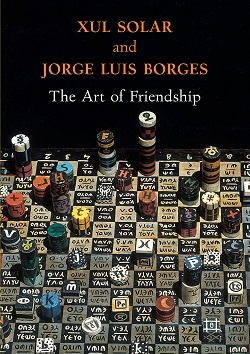 Xul Solar and Jorge Luis Borges: The Art of Friendship documents the eponymous exhibition at Americas Society on view from April 18- July 20, 2012. The first solo exhibition dedicated to painter, musician, writer, astrologer and occultist Xul Solar in New York, the show examines the public and private aspects of his long friendship and intellectual exchange with famed writer Jorge Luis Borges. Since the 1920s their unique and long lasting friendship cultivated an eccentric intellectual discourse that had local as well as international repercussions. Solar developed a colorful and fantastic system of paintings in which he blended metaphysical ideas with regional interests in pre-Hispanic cultures and the reinvention of language. His boundless imagination and curiosity was nurtured by fertile dialogues with Borges, which allowed him to collaborate in magazines, conceive illustrations for publications, and work on translations. The exhibition features collaborative works, paintings, artistic objects and books, as well as translations by Solar and Borges.
A fully illustrated, hard-cover, 160-page publication accompanies the exhibition. Edited by Gabriela Rangel, the publication includes some forty five color plates. The publication will include six essays 10—14 pages each, as well as a plaquette featuring poems written specifically for the occasion of the exhibition. The essays in the publication make significant contribution into the field of writings on Xul Solar English, relatively scarce until now.
Learn more about the exhibition.
Contributors and essay topics include:
Patricia Artundo writes on Solar as a visionary and introduces San Signos, book of his meditations done under the guidance of the English mystic Aleister Crowley, previously not discussed in the English-language literature.
Sergio Baur's essay focuses on the interchanges between Solar and Borges within institutional framework of avant-garde periodicals in Buenos Aires.
María Kodama writes on Borges's literary influence and legacy in the Argentine and international context.
Sylvia Molloy's essay unfolds important aspects of Solar's and Borges's intellectual exchanges that led to their respective artistic productions.
Gabriela Rangel writes on cosmopolitanism in Buenos Aires, as well as the philosophical aspects of private and personal relationship, such as friendship, becoming institutionalized and imprinted in official history.
Poets Monica De La Torre, Cecilia Vicuña, and Lila Zemborain write original poems specifically for the publication in relation to Solar's visionary works.
Editor: Gabriela Rangel
Creative Writing Editor: Lila Zemborain
Associate Editors: Anya Pantuyeva
Assistant Editor: Christina De León
Designer: Kate Johnson
Copyeditor: Richard Koss
Translator: Christopher Leland Winks