Who's Coming to the Summit of the Americas?
Some Latin American leaders are on the fence about attending the hemispheric summit in California.
The IX Summit of the Americas, hosted by the United States, gathered leaders from across the hemisphere from June 6 to 10, 2022. But not every country was represented in Los Angeles. 
Ahead of the Summit, controversy arose around the list of invitees. U.S. officials said they would not invite Cuba, Nicaragua, and Venezuela, as none of these countries met the requirements of the InterAmerican Democratic Charter.  
Several countries threatened to boycott the event in response, though in the end only Bolivia and El Salvador passed on attending. Mexican President Andrés Manuel López Obrador, who was a prominent critic of the exclusion, did not attend the event himself and sent his foreign minister, Marcelo Ebrard, in his stead. AS/COA Online reviews each hemispheric invitee's summit decision.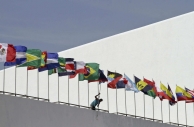 What You Need to Know about the Ninth Summit of the Americas
AS/COA's Steve Liston shares background information on the upcoming Summit, to be held in June in Los Angeles.