UNASUR Tackles Regional Issues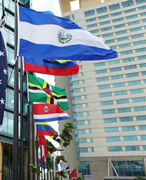 South American leaders convened in Buenos Aires on May 4 to discuss a range of hemispheric issues. The Union of South American Nations (UNASUR) covered topics ranging from Chile's earthquake recovery, Porfirio Lobo's presidency in Honduras, and Arizona's controversial new immigration law.
The organization of 12 South American countries—Argentina, Bolivia, Brazil, Chile, Colombia, Ecuador, Guyana, Paraguay, Peru, Suriname, Uruguay, and Venezuela—rejected Arizona's SB 1070 Bill, stating the law will have "racist consequences." The members recognized statements made by U.S. President Barack Obama as well as the Organization of American States criticizing the legislation.
Several UNASUR leaders also took a position on the recognition of Honduran President Porfirio Lobo's government, which has struggled to gain international recognition due to questions about the June 2009 ouster of then-President Manuel Zelaya. Although Lobo won a November 29 election, Honduras has yet to regain membership in the Organization of American States (OAS). The Honduran government announced earlier this week that it would set up a truth commission that will investigate events surrounding the coup. Moreover, the United States has urged the OAS to readmit Honduras.
Still, though Lobo's administration has restored relations with 51 countries, Peru and Colombia are the only UNASUR members that have officially recognized his presidency. At the UNASUR summit, some leaders—including Brazilian President Luis Inácio Lula da Silva and Venezuelan President Hugo Chávez—suggested they would boycott a May 18 EU-Latin American summit in Madrid if Lobo attends. In response to UNASUR's statements, Spain retracted Lobo's invitation to the summit, prompting the Honduran leader to announce that "Honduras will not be a source of conflict" and that he will not attend the meeting, although he will travel to Madrid for a simultaneous EU-Central American summit.
The organization elected former Argentine President Néstor Kirchner as its new secretary general, with Brazilian President Luiz Inácio Lula da Silva, the first leader to give his support to Kirchner, saying he is "100 percent ready for the designation" and that his election marks a "stage of further strengthening of UNASUR." For his part, Kirchner, who will serve as secretary general for the next two years, pledged that he will take on the position with "total loyalty."
Learn more: