Toward Energy Security in Chile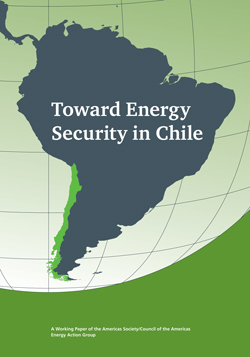 Expressing concern that Chile could face a serious energy crisis in the near future if it doesn't take action now, Chile's President Sebastián Piñera announced, in January 2012, an eight-point energy strategy for the country. On the verge of becoming the first developed country in South America, Chile's economic growth would certainly be impacted by energy shortages. With an eye to these developments, Americas Society and Council of the Americas Energy Action Group released Toward Energy Security in Chile, a working paper that explores Chile's efforts to achieve the energy security it needs to promote continued economic growth.
---
---
On November 2, 2011, the Americas Society and Council of the Americas Energy Action Group provided input to the development of the Piñera administration's energy plan through a roundtable in Santiago with Chile's Minister of Energy Rodrigo Álvarez. The high-level public and private sector experts at the meeting discussed key energy opportunities and challenges in Chile as well as possible solutions. Toward Energy Security in Chile makes recommendations based in part on that meeting.
The paper recommends that Chile:
Streamline its energy project approval process to maximize investment in the sector.
Prioritize public engagement in the energy sector.
Upgrade and expand its energy infrastructure, particularly its transmission system.
Prioritize efficiency measures to help meet demand, decrease costs, and lower emissions.
Seek to strengthen energy interconnection with its neighbors so it can take advantage of regional energy sources and economies of scale.