Tax Incentives Lure Tablet Producers to Brazil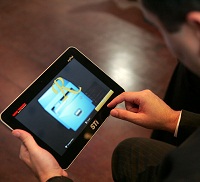 Despite the fact that Brazil is the sixth-largest economy in the world, it's also one of the most expensive places to buy electronics, particularly mobile phones and tablets. It's the most costly country to buy Apple products; iPhones and iPads cost around twice as much as in the United States. It can also be an expensive place to operate a business, given the so-called "Brazil cost" of taxes and bureaucracy. However, a new legal framework for tablets not only seeks to make the popular device more affordable, but also to attract high-tech manufacturers to set up shop in Brazil. Now, given the government's efforts to foment tablet production, Brazil will reportedly reveal its first locally produced iPad next month.
In May 2011, President Dilma Rousseff signed a provisory measure to include tablets in the Lei do Bem (Good Law), a 2005 law that gives tax breaks to IT companies that manufacture goods in Brazil. A provisory measure allows the president to pass legislation without congressional approval, allowing her to fast-track reforms. Brazil-based tablet and tablet accessories makers are entitled to an 80 percent tax reduction on industrialized products—a drop from 15 to 3 percent. In addition, the law eliminates a 10 percent government safety-net tax. As part of the law, some states also eliminated another 7 percent tax. In order to qualify for the benefits, companies must abide by regulations requiring minimum amounts of locally produced parts, as well as invest at least 4 percent of net revenue into research and development. "The objective is to guarantee that Brazil has knowledge of technologies used [in production] and that it can develop new equipment," explained an October Ministry of Science and Technology press release.
A month after the president passed the measure, the Ministry of Science and Technology approved Samsung, the first company to benefit from the law, followed by five more companies. In October 2011, Brazil's Congress decided to transform the provisory measure into Law 12507, which updates both the Good Law and Brazil's 1991 Information Technology Law to include tax incentives for tablet production.
By the beginning of 2012, the government had authorized 11 companies to qualify for tax breaks under the new legal framework, while 28 companies in total requested consideration under the law. In late January, the Brazilian government approved Foxconn—a Taiwanese technology manufacturer—to produce iPads in Brazil after a lengthy negotiation process. Foxconn already has three factories in São Paulo that produce computers, printers, iPhones, and, reportedly, iPads. Folha de São Paulo says that Foxconn representatives are planning a trip to Brazil in May to unveil their Brazilian iPad production, which purportedly began two months ago. With strict labor laws and salaries twice as high as in China, Brazil could become a model for Apple production, according to technology site CNET. Luis Carlos de Oliveira, a São Paulo labor leader, agreed, saying: "The satisfied worker will produce more, and produce better."
With tablet manufacturers setting up in Brazil, more are on the way. China's SinoHub and the United States' Ciao Telecom announced a joint venture in February to begin producing tablets and smartphones in the Latin American country this year. Research in Motion, which produces Blackberry mobile phones and tablets, recently expressed interest in producing Playbook tablets there as well.
Brazil's legal framework could reduce the price of locally produced tablets by 31 percent, according to the government. Companies such as Motorola and Samsung that began producing tablets in Brazil saw a drop in prices ranging from only 1 to 2 percent for Galaxy tablets and 13 to 15 percent for Xoom tablets.
Learn More: