A Status Check on Gustavo Petro's Five Big Reforms
AS/COA Online covers how the Colombian president has fared with far-reaching health, labor, pension, tax, and political reforms.
Seven months into his presidency, Colombia's Gustavo Petro has already submitted several far-reaching reforms to Congress. Together, these efforts, which stand at various places in the legislative process, represent Petro's pledge to bring change to Colombia.
Many presidents promise change and present an ambitious legislative agenda in their first year, but three of Petro's recent reform proposals—on health, labor, and pension—are different, says Colombian political analyst Silvana Amaya. "What I think is particular to Petro is that he proposed them all at the same time," she says. That will make it harder for him to get the reforms approved in the shape he would like, she continues. 
Petro, Colombia's first leftist president, and his Historic Pact coalition hold a simple majority in Congress, with this legislative session starting March 16 and ending June 20. Sergio Guzmán, the director and co-founder of Colombia Risk Analysis, says that the president is pushing his big reforms early because Historic Pact could see its bench weakened following October 2023's local elections. "If you don't think you have governability for the next three-and-a-half years, you try to pass them all at once and see what sticks," Guzmán says. "And I think that that's exactly what Petro's trying to do." 
So where do the reforms stand? And what are they? AS/COA Online explains the status of five key reforms, starting with three introduced since the beginning of 2023.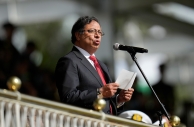 Understanding the Petro Government's Tax Reform
A day after his August 7 inauguration, Colombia's president sent the signature reform to Congress. AS/COA Online talks to experts about what it entails.