From San Salvador: Obama and Funes Map out Security, Growth Initiatives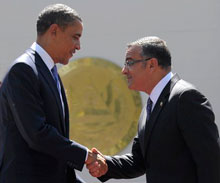 Salvadoran president Mauricio Funes opened a joint press conference with his U.S. counterpart by reflecting on the prior stops—Chile and Brazil—in Barack Obama's five-day tour. Funes explained how the two countries served as points of inspiration for his own, recognizing Chile for its transition from "dictatorship and polarization" to democracy and Brazil for for its achievements in fighting poverty. Obama praised Funes for his "wise leadership" and for his "courageous work to overcome old divisions in Salvadoran society." Funes' 2009 victory marked the end of two decades under the leadership of the Nationalist Republican Alliance.
 
Obama also made a stop at the grave of Archbishop Oscar Romero, killed in 1980 by a sniper early in El Salvador's civil war. The murder was thought to have been carried out by death squads who worked with the right-wing government aligned with the United States and in opposition to the guerillas of the Farabundo Martí Liberation Front (FMLN)—now Funes' political party. Although Obama included the noteworthy stop in his trip, he cut a March 23 tour of Mayan ruins out of his agenda to return to Washington early due to events unfolding in Libya.
During the press conference, foreign journalists focused their questions on the allied strikes on Libya that began during the initial day of Obama's first trip to South and Central America. But Salvadoran press instead focused on the accords discussed by the two presidents, particularly regarding the $200 million worth of U.S. support to boost public safety through the Central American Citizen Security Partnership (CARSI), which will include El Salvador as a recipient. The countries of Central America plan to unveil a regional approach to combating crime this spring. Obama and Funes stressed that CARSI funds will be used to fund "prevention" policies focused on social inclusion and civil society.
With some two million Salvadorans—more than a quarter of the country's population—living in the United States, the presidents also covered immigration reform. "Migration is a painful expression of a world that has not been able to establish accessible parameters of justice and inclusion," said Funes in his remarks. Obama voiced his commitment to comprehensive immigration reform but painted it as a difficult issue to gain support for in Congress. Both leaders talked about the need to create opportunities for people to stay in El Salvador—without turning to crime for easy cash. To that end, Obama referred to an initiative called "Partnership for Growth" to help El Salvador attract private investment and boost its economy. Obama and Funes also described the Building Remittance Investment for Development Growth and Entrepreneurship (BRIDGE) Initiative, which would boost the country's economy through funds send home by immigrants. "[I]nstitutional reforms may end up being more important—or, at least, they have to go hand in hand, because what a country like El Salvador does not want is perpetually to be looking to the outside for its own development," said Obama. "Ultimately it wants to be able to find growth and tap into its own potential here inside the country."
Joint statements, remarks, and agreements: