Runoff Forced in Uruguay's Election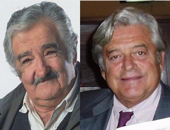 Updated October 26 - Uruguayan voters will head to the polls again on November 29 to make a final decision about their next president. Still, former guerilla leader José Mujica of the governing party appears well-placed for victory. No candidate earned the requisite 50-percent-plus-one of the ballots during the October 25 election, but Mujica pulled in more than 47 percent in comparison to the 28.5 percent received by his next closest rival, ex-President Luis Alberto LaCalle. Still, Mujica could face a challenge should Lacalle's National Party form an alliance with the Colorado party, which won nearly 17 percent of the vote in the first round.
Ahead of Sunday's elections, polls showed the governing alliance, the Progressive Encounter-Broad Front (EP-FA) holding the lead. But the percentage of undecided voters rose significantly from 7.5 percent in August to 12 percent in October, posing a challenge to the coalition as it sought to avoid a November runoff.
Campaign observers attributed the increasing voter indecision to a series of verbal blunders uttered by the contenders in recent weeks. Last month, Broad Front candidate José Mujica's negative comments about Argentina's government spurred President Vázquez to qualify the remarks as "stupidities." The president preferred former Economy Minister Danilo Astori as a successor, but the his high approval rating still apparently gave a boost to Mujica. A former guerilla leader who was imprisoned for 14 years during Uruguay's military dictatorship, Mujica rose to prominence in 2004 when his Movement of Popular Participation—part of the EP-FA coalition—pulled in over 300,000 votes. In 2005, he served as Vázquez's agricultural minister. Now, with Astori as a running mate, Mujica promises income redistribution policies coupled with orthodox economic management.
Mujica's main opponent, former President Luis Alberto Lacalle of the Partido Nacional (PN), also drew criticism for a series of gaffes, including when he said he planned to take a "chainsaw" to public spending. A lawyer and journalist by trade, Lacalle served in Parliament from 1971 until the 1973 coup, then gained a senate seat when democracy was restored in 1984. While president from 1990 to 1995 he co-founded Mercosur. Lacalle then lost subsequent reelection bids.
Whichever candidate wins the November 29 runoff election will be tasked with seeking an investment grade for Uruguay. In an interview with Bloomberg, current Economy Minister Álvaro García suggested that, under Mujica's leadership, the country should be able to regain the investment-grade rating it lost in the aftermath of neighboring Argentina's 2002 default. The International Monetary Fund predicts Uruguay is one of the few Latin American countries that will experience GDP growth this year. Still, the country often finds itself economically overshadowed by Mercosur partners Argentina and Brazil. With that imbalance in mind, García has called for U.S. President Barack Obama to support a bill introduced by U.S. Senator Richard Lugar (R-IN) in September that would include Uruguay as a beneficiary of the Andean Trade Preference Act. Meanwhile, Lacalle has said that, in the case of his victory, he would seek a reassessment of Mercosur and that the body should only be economic—not political—in nature.
Learn more: