Role-Playing in the Honduran Crisis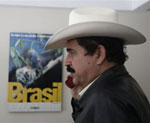 Updated September 29 - The surprise return of overthrown leader Manuel Zelaya to Honduras on September 21 sparked a tense—and at times violent—week in the Central American country. Zelaya remains sequestered in the Brazilian Embassy while he and the de facto government of Roberto Micheletti engage in a war of words and on-again-off-again offers of dialogue. Honduras finds itself increasingly isolated, facing millions of dollars in aid cuts and as almost all countries have scale back diplomatic ties. With the outcome in doubt inside the country, AS/COA takes a look at the roles of external actors seeking to resolve the crisis.
---
---
Brazil found itself thrust into the center of the crisis when Zelaya took shelter at its embassy in Tegucigalpa on September 21. Clashes outside the building and the interim government's decision to cut electricity and water to the compound spurred Brazilian President Luiz Inácio Lula da Silva to remind Honduras of "the inviolability of Brazil's diplomatic mission" during his speech at the UN General Assembly. Lula also called for Zelaya's immediate reinstatement. When calling for an emergency meeting of the UN Security Council about Honduras, he suggested his country's representative should be present for the meeting. Brazil seeks a permanent seat on the Security Council.
Costa Rica has played a major role as a mediator between the two sides. The Honduran military sent Zelaya to Costa Rica after marching him out of his home in his pajamas early in the morning of June 28. Since then, Costa Rican President Óscar Arias led several rounds of negotiations in efforts to end the political impasse. His 12-point San José Accord for Zelaya's reinstatement but with a weakened position and a coalition government. The pact has received international support.
Venezuela may have helped orchestrate Zelaya's return and arrival at the Brazilian embassy, according to President Lula's advisors. according to Honduran interim Foreign Minister Carlos Contreras. President Hugo Chávez repeated his call for Zelaya's return to power in his address to the UN General Assembly on September 24. Chávez has been a supporter of Zelaya from the outset of the crisis, calling the ousted leader's successful reentry a victory for the Honduran people. During Zelaya's presidency, Honduras became a member of the Bolivarian Alternative for Latin America and the Caribbean, a body initiatied by Chávez in 2004

.


 
United Nations Secretary-General Ban Ki-moon temporarily suspended UN assistance to the electoral authority in Honduras on September 23 because "current conditions are not conducive to … credible polls." Heads of state speaking at the UN General Assembly this week reiterated support for Zelaya's return to power while Central American presidents warned the coup threatened repercussions across their region.