Review 85: Eco-Literature and Arts in Latin America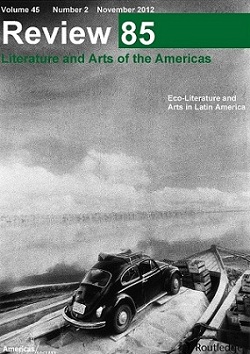 The eco-literature and arts issue of Review was guest-edited by Steven F. White (St. Lawrence University). Contributing authors include Homero Aridjis, from Mexico; Astrid Cabral, from Brazil; Esthela Calderón, from Nicaragua; Leonel Lienlaf, from Chile; and Juan Carlos Galeano, from Colombia/United States.  
Learn more or purchase Review 85. Subscribe to the magazine.
For more information about past editions, contact:
Daniel Shapiro
Director of Literature and Editor of Review Magazine
(212) 249-8950 ext. 366
Fax (212) 249-5868
dshapiro@as-coa.org