Political Representation & Social Inclusion: A Comparative Study of Bolivia, Colombia, Ecuador, and Guatemala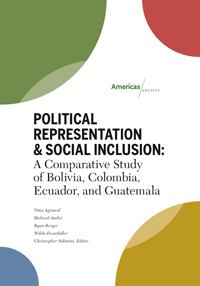 Does the increased presence of Indigenous and Afro-descendant representatives in national legislatures make a difference for these populations? This white paper presents the findings and conclusions of Americas Society's (AS) Ford Foundation-funded research on political inclusion carried out under the AS Social Inclusion Program. The goal of this report is to help bring greater attention to the gains and challenges of race- and/or ethnicity-based political representation in Latin America. It analyzes how political representation of traditionally marginalized populations has changed over time, from 1986 to 2012, and if it has affected policy in favor of these populations.
The report draws on field research conducted in Bolivia, Colombia, Ecuador, and Guatemala—four countries with sizable Indigenous and/or Afro-descendant populations. In the comparative report and individual country case studies, we explore the unique political and social movements and constitutional reforms that paved the way for greater ethnic or racial representation and their effectiveness in representing and defending their communities' demands once in office. In total, we observe 12 congressional sessions and two constituent assemblies between 1986 and 2012.
---
---
Through in-country research, Americas Society examined a series of variables affecting Indigenous and Afro-descendant representatives' success in legislating on behalf of constituents. These variables include political institutions, election laws, executive-legislative relations, and the role of social movements and international organizations.
About the AS Social Inclusion Program
With a grant from the Ford Foundation, Americas Society is working to strengthen the voice of marginalized groups by presenting new research and promoting fresh debate on how the public and private sectors can address systemic challenges to social inclusion. In addition to political representation, our efforts have focused on youth unemployment, education and health care as key determinants of economic and social mobility. Learn more about Americas Society's Social Inclusion program.