From Opportunity to Disruption: What Is Next for Latin America?
"We are in a global battle for hearts and minds, where decisions are being made today that will lock in relationships for the longer term," writes AS/COA's Eric Farnsworth in The National Interest. 
President Joe Biden's virtual summit of democracies in December 2021 was a timely initiative highlighting the intensifying battle for the future of global governance while seeking ways to build and promote democratic practice worldwide. That includes the Americas where democracy is clearly on the defensive and, in some cases, retreat. But even more than invitations to the December event, supporting regional democracy effectively will require the United States to pay heed to hemispheric policy after years of underinvestment. As China and other authoritarians actively seek to enhance their global positions, Washington should pursue a robust post-Covid-19 agenda that focuses on the strategic value of Latin America to the United States and strengthens democratic governance against the gravitational pull of less salubrious alternatives.
Democracy has demonstrably lost ground in the Americas over the past generation—and the trend is accelerating. At the first Summit of the Americas, a periodic gathering of all regional democracies held in Miami in 1994, only one leader—Cuba's dictator, Fidel Castro—was not invited. The next time the United States will host the Summit of the Americas, in 2022, at least three nations—Cuba, Nicaragua, and Venezuela—will not meet basic conditions of democratic eligibility. And soon there may be even more. In the twenty-seven years between U.S.-hosted Summits of the Americas, the map of regional democracies has gone from monochromatic to variegated, including some nations which remain democratic today but where national executives are actively disregarding democratic responsibilities and requirements and trendlines are unfavorable.
It's the old story. U.S. foreign policy elites generally ignore the Western Hemisphere until they can't, and then they scramble to catch up. Policy tends to move from crisis to crisis, with officials and strategists never really investing the time and effort necessary to build enduring relationships to head off crises before they occur or manage them effectively when they do. Usually, that means whenever regional developments impinge upon domestic politics, such as migrant surges as seen in 2021 or during election cycles when politicians seek to improve their standing with Hispanic voters, who now make up almost 20 percent of the total U.S. population and account for around half of total population growth over the past decade. Drug trafficking and trade also break onto the domestic agenda from time to time; energy too, particularly during periods of global energy insecurity…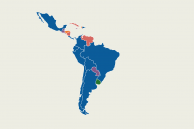 Chart: Evaluating Latin American Democracies in 2022
The region has witnessed a mix of stability and stagnation with several big setbacks and a couple bright spots.