Obama's El Salvador Stop Spells out Security Strategy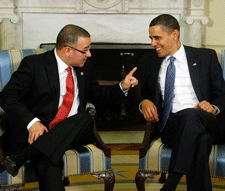 When Obama arrives in El Salvador on March 22, security will be on his mind. Mexico's drug war generally overshadows the security concerns faced by Central America in U.S. media. But the rise of drug trafficking and gangs have combined to make the isthmus one of the most dangerous places in the world. U.S. policymakers have noticed. Military aid to Central America to combat drug traffickers began as an extension of the Merida Initiative—the largest U.S. military assistance program in the hemisphere since Plan Colombia. But with Central America's security situation spiraling out of control, the Obama administration split the security strategy for the region from the Merida Initiative's, giving it its own military aid program in 2009 and continues to ramp up its budget. 
Prior to the Merida Initiative, the only Central American countries to receive counternarcotics funding were Panama ($3.3 million) and Guatemala ($1.9 million). That picture has changed. Soaring crime rates and gang activity combine to make the "Northern Triangle" countries of Guatemala, El Salvador, and Honduras propitious environments for drug trafficking. Those countries now suffer the world's highest murder rates outside of war zones, The Economist recently reported. The region serves as a land bridge joining the Andes—where most of the cocaine consumed in the United States is produced—and Mexico, where an estimated 90 percent of the cocaine consumed in the United States enters the country. The recent discovery of a large cocaine-processing laboratory outside the Honduran capital of Tegucigalpa may signal that Colombian drug traffickers are moving into Central America to escape increased policing in their home country. Mexican drug cartels have pushed across the country's southern border into Guatemala. Complicating matters further, some 70,000 Central Americans belong to maras—youth gangs that constitute a major threat to regional security.
The Obama administration is responding by upping its support for Central American anti-drug trafficking efforts. Funding to Central America through the Merida Initiative grew from $60 million in 2008 to $100 million in 2010. The region also received $260 million in counternarcotics funding through the Central American Regional Security Initiative (CARSI) during fiscal years 2008 to 2010. During a visit to Honduras last month, U.S. Assistant Secretary of State William Brownfield pledged an additional $200 million to Central American countries through CARSI.
Obama's stop in El Salvador comes at a time of evolving U.S. counternarcotics policy of focusing on violence in Central America as a separate issue from that in Mexico. CARSI's ultimate goal is to dismantle organized crime networks by providing military equipment, training, and help build up corruption-plagued public institutions. El Salvador already plays a leading role in counternarcotics activities in the region. According to Brookings Institution Fellow Diana Villiers Negroponte, the country serves as the base for U.S. reconnaissance air missions and a regional training center for judges, prosecutors, and law enforcement officers called the Institute for Law Enforcement Administration (ILEA). 
Working too closely with the United States may cause political problems for President Mauricio Funes, however. Centrist Funes—formerly a television journalist—was chosen by his leftwing party, the Frente Farabundo Martí para la Liberación Nacional (FMLN) for his broad appeal rather than his militancy. Consequently, he has at times butted heads with the far-left members of his party, particularly those who identify with the Bolivarian Alliance (better known as ALBA). Partnering with the United States does not sit well with those elements of the FMLN, which began in 1980 as a guerrilla army fighting against an authoritarian government supported by the United States. The tension cuts both ways—McClatchy Newspapers reported Thursday that officials on the Obama visit do not plan to meet with El Salvador's Public Security Minister Manuel Melgar because of his alleged role in the 1985 murder of four U.S. marines back when he served as a commander in the FMLN guerrilla army. 
Obama is popular in El Salvador, however, where roughly 76 percent of the population has a favorable view of the U.S. leader, according to a 2010 report by Chilean-based polling firm Latinobarómetro. Perhaps anticipating criticism of the U.S. role in El Salvador's recent history, Obama plans to visit the grave of bishop Óscar Romero—a defender of the poor and a critic of state repression who was murdered in 1980 while giving mass. 
Learn More: