Mandatory Voting and Voter Turnout in the Americas
Explore the interactive: which countries in the Americas require their citizens to vote, and which countries have the highest turnout?
In the Americas, many countries have compulsory voting, though only some countries impose penalties for failing to cast a ballot. Meanwhile, voter turnout varies widely; in the last Bolivian presidential election in 2009, turnout stood at nearly 95 percent, while in Haiti's 2010 election, turnout was less than 23 percent. Countries with penalties for not voting all had turnout 68 percent or higher during the last presidential elections. But mandatory voting is not a prerequisite for high turnout; for example, during Venezuela's April 2013 presidential election, turnout was nearly 80 percent, though voting is not mandatory.
AS/COA Online compiled data from the most recent head of state elections in 21 countries in the Western Hemisphere, looking at mandatory voting regulations and turnout at the most recent national election in each country. Explore the map and charts to see election rules and voter turnout.
Green-colored countries have mandatory voting, while blue-colored countries have optional voting. Darker shades indicate high voter turnout, while lighter shades show low voter turnout. Click each country to see voting data, and use the zoom tool to explore the map.
See which countries require mandatory voting.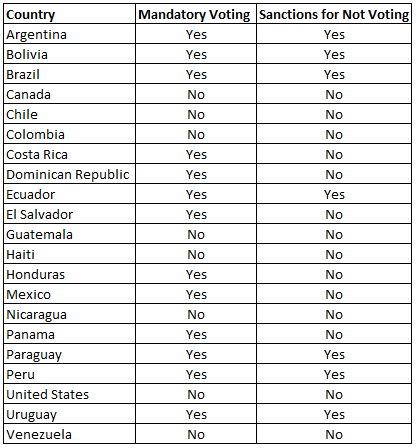 Compare voter turnout in the Americas. Green countries have mandatory voting, while blue countries have optional voting.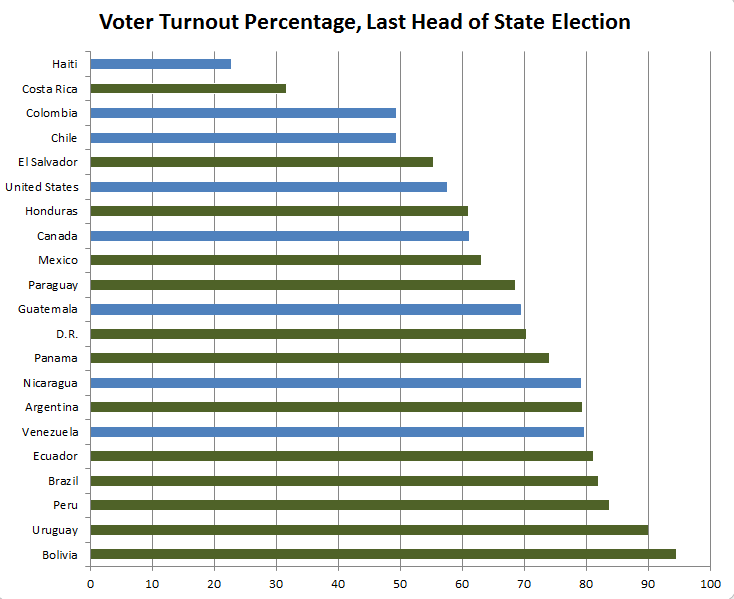 See voter turnout during the most recent head of state elections, sorted from highest to lowest turnout.