LatAm Minute: Ruta N and Transforming Medellin into an Innovation Center
The executive director and the city's tech plan manager explained how the innovation center has helped forge the city's dramatic turnaround.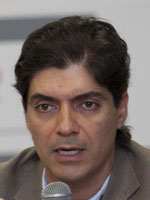 Juan Camilo Quintero
Ruta N is more than just a technology complex. Founded by the city government in 2011, it serves as the cornerstone of Medellin's innovation center. The facility houses 32 companies from 12 countries and over 900 employees. Publicly funded, Ruta N not only serves as a launch site for businesses operating in Medellin but also works with universities and the private sector to promote innovation, to support entrepreneurs, and to provide tech training and education for youth. Ruta N Executive Director Juan Camilo Quintero and Medellin's Science, Technology and Innovation Plan Manager Elkin Echeverri spoke to AS/COA Online's Rachel Glickhouse about the complex and what it means for the city.
Echeverri noted that Medellin had been a major Latin American industrial center in the 1960s and 70s, and Ruta N represents a chance for the city to regain prominence after its dark period in the 1980s and 90s. The name Ruta N (or Route N) comes from the complex's location in the city's north zone, a traditionally underdeveloped section of Medellin. But it also serves as a play on words for the Spanish word norte, to give the city a lodestar as a point to reach for in terms of innovation. The goal is to eventually cover nearly 11 million square feet, up from roughly 344,000 square feet at present. The center also aims to eventually provide over 28,000 jobs.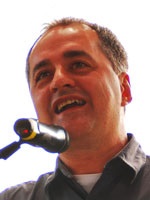 Elkin Echeverri
Quintero explained that Ruta N is an "innovation ecosystem" as well as an effort at urban transformation. The building itself is a symbol of innovation. It's the first public-sector building in Colombia to receive the U.S. Green Building Council's Leadership in Energy and Environmental Design (LEED) certification, which was granted in June. That's because the facility is sustainable, with limited water use, efficient lighting and cooling, proximity to public transport and bike share space, and an outdoor green area. Plus, 90 percent of the waste materials produced during the building's construction were recycled.
This center represents Medellin's "future, its horizon, and its revolution," said Quintero. After the city "hit rock bottom," many from his generation felt desperation, or even left the country. Echeverri agreed, but added that now, there's hope, said Echeverri. "Education and innovation have become the concerns of society—not drug trafficking and terrorism," said Quintero. He noted that the city has an "obsession" with improving the quality of education and creating a "knowledge society" in order to generate high-skilled jobs and attract companies to Medellin. Ruta N is writing Medellin's "new history" with the help of a large amount of young employees, he explained.
For example, Ruta N is changing the focus of education in the city to ensure students learn critical thinking and innovative methodologies with programs that teach engineering to high school students. Science and technology education are the means, not the end, to improve society and reduce inequality, said Quintero.
While Ruta N follows the example of cities like Boston and Barcelona, Quintero cautioned that models and ecosystems cannot be copied. It's important to have international references, he said, but "it's very hard to copy because the macro, micro, and cultural conditions are very different in Latin America." He noted that in Latin America, there's an aversion to risk and there needs to be a greater willingness to take chances, and Medellin is an example of the benefits of taking that leap.
[[nid:51813]]
Elizabeth Gonzalez contributed to this report.