LatAm Minute: Minister Diego Molano Vega on Innovation in Colombia
The IT minister explained how Colombia is forging its own path to expand technology access.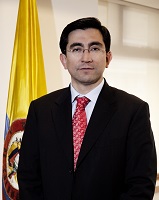 In the last few years, "technology became a priority for society," says Colombia's Minister of Information Technologies and Communications Diego Molano Vega. He spoke with AS/COA Online's Rachel Glickhouse about the impact of technology in Colombia and how innovation is transforming the Andean country.
Colombia looks abroad for best practices and positive experiences when it comes to innovation, "but we are creating our own way of doing things," said Molano. Still, the country's greatest technological challenge is talent, he explained. Colombia needs to not only train more people to work in the technology field, but to ensure professionals in a variety of sectors have IT skills. As a result, the government is investing in youth; with the program Apps.co, for example, over 60,000 young Colombians are developing apps focused on areas such as agriculture, health, and education.
During his presentation at AS/COA's Latin American Cities conference in Medellin, Molano elaborated on Colombia's progress in tech. Over the past four years, Colombia saw the number of internet connections in the country quadruple, from 2.2 million to 8.8 million. Now, over 1,000 municipalities have access to high-speed fiber optic lines, and 2,600 rural communities are connected to the internet. A recent Ipsos survey found that over 70 percent of Colombia's poorest use the World Wide Web. The country has the cheapest computers and tablets in Latin America, said Molano. Plus, as a part of the government's housing plan, low-income Colombians get preferential rates for broadband access and a subsidy to purchase computers.