LatAm in Focus: Who Will Foot the Bill for Climate Adaptation?
The UN's Juan Carlos Monterrey Gómez and Marsh McLennan's Amy Barnes explain how the public and private sector are funding a green economic transition.
New to the podcast? Check out past episodes and learn more about Latin America in Focus, and subscribe on Amazon, Apple, Spotify, Google, Soundcloud, or Stitcher.
---
It could cost up to $6 trillion a year to finance the transition away from a carbon-intensive economy.That's over three times more than the current yearly global commitment.  
What would it take to rapidly expand the amount of financing available for decarbonization, green infrastructure, and compensation for the effects of climate change?  
For one, it'll take getting developed countries to pay their share. "It's not a question of charity," explained Juan Carlos Monterrey Gómez, vice chair for the Implementation of the UN Climate Convention and director of the School for Biocultural Leadership at Geoversity, "This is a question of justice. It is a question of moral justice based on a historic problem that we did not cause, but we continue to suffer the most impactful and damaging effects of it." A former climate negotiator for Panama, Monterrey Gómez explained that at successive climate summits, the developing world has struggled to get developed countries to follow through on their financing promises. 
But his country, Panama, has had success at securing money for its own green transition, and a big part of that has been creating the right environment to encourage the private sector to commit to green projects. "If we don't actually get the economy behind the Paris Agreement, then there is no amount of money that will be able to cover all the losses and all the damages that we are going continue to suffer," he explained.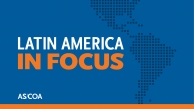 Latin America in Focus Podcast
Subscribe to Latin America in Focus, AS/COA's podcast focusing on the latest trends in politics, economics, and culture throughout the Americas.