LatAm in Focus: Steven Levitsky on Peru's Election
Which presidential race has been more incredulous in 2016—Peru's or the United States'? It's a tough call, says the Harvard professor.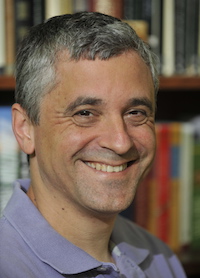 Image courtesy of Steven Levitsky
On April 10, Peruvians head to the polls to vote for Ollanta Humala's successor. Leading in the polls is Keiko Fujimori, a former first lady during her father Alberto's presidency in the 1990s and the runner-up to Humala in the 2011 presidential election.
Harvard University's Steven Levitsky, an expert on Peruvian politics, spoke with AS/COA Online's Holly Sonneland about Sunday's vote, the candidates, and a race overshadowed by candidate disqualifications.
"People were organizing marches demanding the exclusion of other candidates."
"When you unfairly remove candidates from the race and unfairly restrict competition, the result is an election that is less democratic," says Levitsky. 
All the discussion and energy devoted to the disqualifications has detracted from the democracy of the race, says Levitsky. "If you picked up a newspaper in late March and read the political section, eight out of 10 articles would be about the possible, pending exclusion of a candidate," he says. "People were running around basically either defending themselves or making the case that other candidates should be excluded from the race—which is just a terribly undemocratic place to be because elections are about maximizing competition."
If no candidate captures a 50 percent majority, a runoff election will take place on June 5. The winner will be sworn into office in July.