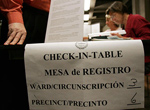 Tom Tancredo may have dropped out of the contest for the Republican Party nomination, but he left his mark on the 2008 U.S. presidential race. The Colorado congressman, whose poll numbers consistently languished in the low end of the Republican playing field, made his anti-illegal immigration stance the cornerstone of his campaign and vaulted the issue into the race's spotlight. Other topics rise higher on voters' lists of concerns, but as the January 3 Iowa caucus nears, immigration has emerged as the top issue for Republican voters in that state, ahead of the Iraq War and national security.
Immigration-related questions have dominated Republican debates, with ramped up security on the U.S.-Mexico border the most common policy proposal related to immigration. In a recent campaign ad, Mitt Romney used the issue of illegal immigration to try to rein in the lead of fellow frontrunner Mike Huckabee, accusing him of being soft on immigration. John McCain co-sponsored a failed comprehensive reform bill in the U.S. Senate that included a guest worker program and a path to citizenship for immigrants. The bill never passed and contributed to McCain's lagging poll figures. 
Candidates may find themselves burning bridges with tough anti-immigration talk. A recent BusinessWeek article noted that some Republican business leaders have begun to switch sides. "The Republican candidates just don't get it," said one business owner. "They need to understand that immigration helps drive economic growth, and that without it a lot of industries are in trouble." Focus on the issue has also done little to help foreign relations. During a recent radio interview, Mexican President Felipe Calderon said, "The only theme in the (U.S.) electoral campaign is to compete to see who can be the most swaggering, macho, and anti-Mexican."
Democrats have also come under fire on immigration-related issues; Hillary Clinton found herself losing ground after she stumbled in a debate response about whether undocumented immigrants should receive driver's licenses. National Journal notes that "illegal immigration will be 2008's flag-burning/gay marriage, which in previous cycles had a very real effect on election outcomes despite Americans' protests that those concerns weren't part of their Election Day calculus." 
Indeed, those opposed to reform sit in the minority; 60 percent of Americans favor creating a path to citizenship for immigrants. Candidates may also find themselves alienating Latinos, the country's largest minority group in the country. A recent survey by the Pew Hispanic Center found that over half of the Latinos living in the United States worry about deportation of loved ones, and two-thirds say Congress' failure to approve immigration reform has had a negative impact on the lives of all Hispanics in the United States.
With the lack of a comprehensive immigration plan at the federal level, states and local governments have begun to take matters into their own hands. Across the United States, states considered more than 1,000 pieces of immigration-related legislation, as a Migration Policy Institute report explains. A recent AS/COA hemispheric update takes a closer look at some of these laws, particularly in the areas of public benefits, employment, and identification.
The future of immigration policy beyond the Iowa caucus—and the 2008 presidential election—remains in doubt. But, as former Foreign Minister of Mexico Jorge Castañeda, author of Ex Mex: From Migrants to Immigrants,  said in an AS/COA Online interview,  the need for reform will force a choice: "It's either regression—with all the dangers and the outrages of separating women from their children, of deporting people, of raiding houses—or it's reform."