Interview: Herminio Blanco on the WTO's Future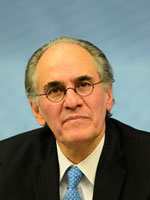 "[A] Mexican being the head of the World Trade Organization would be recognition of Mexico as an important player in world trade."
The selection process for a new director general of the World Trade Organization is underway, even as the multilateral agency faces challenges such as the stagnant Doha Round and major trade deals that fall outside of its purview. Dr. Herminio Blanco, Mexico's candidate for the director general post, spoke with AS/COA Online's Carin Zissis about why this year presents a "window of opportunity" for the World Trade Organization (WTO). With 27 years of experience in international trade, including as a chief negotiator for the North American Free-Trade Agreement (NAFTA), Blanco says it's in the interest of WTO members to heed the call to action. "I don't think it's in the interest of anybody—not the U.S., not the EU, and not the other members of the World Trade Organization—for the WTO to become irrelevant," he said.
---
---
AS/COA Online: Should you become the new head of the WTO, you would take the reins with the Doha Round remaining stalled. What do you see as the path forward toward action for the WTO?
Dr. Herminio Blanco: I believe that this year is a window of opportunity, a window of opportunity that we cannot waste.
First of all, in the first week of December in Bali, Indonesia, there will be a ministerial meeting, and ambassadors in Geneva are working towards an agreement that would be significant in substance—very importantly, a set of measures that would be facilitating trade, eliminating obstacles in customs, eliminating obstacles in ports, improving infrastructure. And the estimates of benefits for the world are hundreds of billions of dollars. The package will also involve modernization and measures that will give access on agricultural products for least-developed countries. And it would be an interesting package—limited but interesting—that could send a very important message: agreements can be reached and can be reached in Geneva. That would be a very fundamental message.
If that happens, and I'm convinced that it can happen, and if I am the new director-general, in June I will start working towards it, looking at this package and trying to be helpful in the solution.
If that happens, we will have a new environment in which, very importantly, the business community of the world—the U.S., Europe, Japan, Mexico, different countries—will put more effort into having a successful Doha Round. A negotiation that has not been successful for 12 years implies that the parties to the negotiation have to be more flexible. Flexibilities are required, and I do believe that flexibility has to come proportional to size. Larger countries have to be more flexible, not only the developed countries but also the larger developing countries that are members of the WTO. With this flexibility, I think we could move beyond Doha and move to modernize WTO.
This year is a window of opportunity also because we're going to have a new director-general, new leadership in the WTO, new deputy director-generals, a new team that could also have an impact on the psychology of the process. I'm convinced that psychology in every negotiation is very important. Negotiations at the beginning, in the middle and at the end are human events.
And finally, the launching of a significant negotiation such as the trans-Atlantic negotiation between the U.S. and the EU is a challenge and a risk, but also I think it's a very clear call to action in Geneva. Either members move in Geneva or we risk the organization becoming irrelevant. I don't think it's in the interest of anybody—not the U.S., not the EU, and not the other members of the World Trade Organization—for the WTO to become irrelevant.
AS/COA Online: There's another large trade negotiation that's going on—the Trans-Pacific Partnership [TPP], which Mexico is party to. What are your thoughts on what its impact will be on the WTO?
Blanco: It is no doubt a challenge. No doubt it's also an opportunity. But I spoke about the Trans-Atlantic Partnership, because this agreement between the EU and the U.S, I think, has the potential for modernizing rules of trade more than the TPP. I believe that the capacity for the EU and the U.S. to move in transforming the way in which standards and regulations are applied and to work towards harmonizing them and eliminating a substantial cost in trade, that is something that would be a game-changer. I expect a lot from the TPP, but I don't think the work that would be done in standards and regulations in the TPP would be of the depth that will happen in the Trans-Atlantic Partnership.
AS/COA Online: What do you think it will mean for Mexico if you become head of the WTO? What does that say about Mexico on the global stage?
Blanco: I think that what President Enrique Peña Nieto is doing and his vision of Mexico is a Mexico that has more presence in the world—a Mexico that grows faster, a Mexico that is more competitive. And in that sense, a Mexican being the head of the World Trade Organization would be recognition of Mexico as an important player in world trade. It's a symbol, if I may say; it would be a symbol of recognition of the history of Mexico and, very importantly, of what President Peña Nieto and the most important opposition parties are trying to build for Mexico.
AS/COA Online: One last question. We're coming up to two decades of NAFTA. As a chief negotiator of that deal, how would you evaluate NAFTA as it approaches its twentieth birthday?
Blanco: It has gone way far beyond my wildest dreams. You know, when they used to interview me during the negotiations, they would say, OK, what will happen to foreign direct investment? Will it double? Will it go 50 percent? And I never answered with numbers. But I would not have thought that we would be at the level we are now. And if somebody would have told me, in 20 years Mexico will be exporting more than a billion dollars per day, I would say, "You must be crazy." [I would have said] that NAFTA is very good but arriving at a billion dollars per day, that was not even in the realm of my forecast. So I would say NAFTA has served Mexico very well. It has generated very many jobs. It has transformed Mexico, from Mexico City up, west, and north—a true revolution in the industrial and the commercial sense. And a growing middle class, I think, attests to the success of NAFTA, together with other policies.