An Inch - But Not a Mile - in Honduran Standoff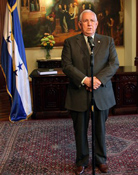 Honduras took a few steps toward normalcy in recent days. The de facto government lifted overnight curfews enforced since the June 28 ouster of President Manuel Zelaya. Moreover, the disputing sides began talks last week mediated by Costa Rican President Óscar Arias. The discussion ended Friday with no compromise as Zelaya and interim President Roberto Micheletti refused to speak face to face. Micheletti signaled he'd give an inch, saying Sunday that Zelaya could receive amnesty if he returns to Honduras. But the interim leader might not give a mile: he remains firmly against Zelaya's restoration to the presidency, despite international pressure.
While the two sides debate next steps for Honduras, others have weighed in with their own perspectives on the standoff. Former Cuban President Fidel Castro wagers that, if Zelaya fail to regain his post, "a wave of coups threatens to sweep away many Latin American governments." Speaking from the opposite end of the spectrum, U.S. Senator Mel Martinez (R-FL) warns that the allowing Zelaya's return "signals approval of his unconstitutional acts." In The Miami Herald he urges the creation of a reconciliation government that would exclude members of either the Zelaya or interim governments. Peru's Mario Vargas Llosa puts the coup in the context of Honduran opposition to Venezuela's influence coupled with fears that the deposed leader sought to remake himself in President Hugo Chávez's image.
Chávez's role in the Honduran situation has been in the spotlight as has Washington's. The deposed and interim president have both looked to the Obama administration to play a role in solving the problem. Two days after Honduran authorities prevented Zelaya from landing in Tegucigalpa's airport, he met with U.S. Secretary of State Hillary Clinton to make his case. The New York Times reports on the "charm offensive" of high-profile lawyers hired by Micheletti's de facto government to gain U.S. support. The article also points out that Micheletti dismissed the interim foreign minister after he committed the gaffe of making a racist comment about U.S. President Barack Obama.
The Micheletti-Zelaya talks resulted in limited movement but will continue. Arias proposed that the discussions should resume on July 17. As the work for a solution goes on, an already impoverished Honduras faces stepped-up financial worries. The interim government that $200 million worth of credits had been withdrawn at the same time that the global financial downturn takes its toll on key Honduran industries such as coffee and textiles. "We have to think in terms of austerity and we want to ask the people to do the same," said Micheletti on Friday.
Learn more: