How Are Latin American Leaders Responding to Hamas' Attacks on Israel?
Although most leaders have condemned the attacks, there has not been a unified regional response to them or the subsequent conflict.
Updated October 11, 2023*—Hamas' surprise attack on Israel on October 7 has instigated a new round of conflict between the terrorist group and the Israeli government, with high death tolls in both Israel and Gaza. Across the region, Latin America's leaders responded to the conflict and bloodshed. Like with Russia's invasion of Ukraine, there was no unified regional response. While condemnation of terrorism was common, some leaders, such as Mexico's Andrés Manuel López Obrador, professed neutrality. Others, like Colombia's Gustavo Petro, criticized the Israeli government.
Latin America has existing relationships with both Israel and Palestine. From 2009 to 2011, a majority of Latin American countries chose to recognize Palestine alongside Israel diplomatically. Mexico and Panama, however, recognize only Israel.
After the Hamas attacks, citizens in the region made their opinions known with marches and demonstrations in support of both Israeli and Palestinian causes. Foreign ministries focused on evacuating nationals from the region and verifying whether any citizens were taken hostage by Hamas or killed. At least seven Argentines have been killed and 26 Latin Americans were missing as of October 9.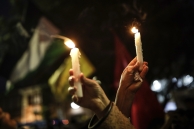 Explainer: Latin America's Relationship with Israel and Palestine
Amid the conflict, learn about the region's ties with Israel and Palestine in terms of the diaspora, diplomacy, security, and more.