Haiti Update: Preliminary Election Results Indicate Runoff
A tally released November 5 puts ruling party's Jovenel Moïse first and Jude Célestin second, but voter fraud concerns abound.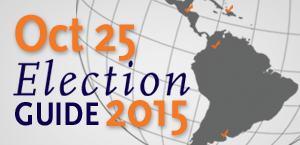 Preliminary results for Haiti's October 25 presidential elections are in and suggest a runoff will take place on December 27. The Provisional Electoral Council (CEP) released a tally of the first round of the presidential vote on November 5, giving 32.8 percent of the votes to the governing party's Jovenel Moïse, with Jude Célestin of the Alternative League for Progress and Haitian Emancipation party (LAPEH) trailing behind with approximately 25.3 percent of ballots.
Publication des résultats préliminaires des Présidentielles du 25 oct 2015 #HaitiElections pic.twitter.com/2Z47eCKgvu

— CEP HAITI (@cep_haiti) November 5, 2015
But result controversies abound, beginning with the fact that only seven of the CEP's nine members signed off on the preliminary results. As such, an appeals process will follow, with certified results due to come out by the end of November.
#HaitiElections: partial results are flawed according to many, will we have a new president on Feb 7 2016? @ijdh https://t.co/2mIKS0GDL0

— Wadner Pierre (@wadnerpierre) November 5, 2015
For Célestin, it's a déjà vu scenario going back to his candidacy for president in 2011. At the time he ran with the Unity Party, and preliminary results put him ahead of current President Michel Martelly, but Célestin dropped out of the race when the Organization of American States contested the results.
Célestin is also threatening to drop out this time around, claiming that votes were fraudulently cast in favor of Moïse, who represents the Haitian Tèt Kale Party (PHTK).
Other candidates made similar claims after polls closed on October 25, including opposition candidate Moïse Jean-Charles, who came in third in preliminary results with some 14.3 percent of the vote.
With only about 1.5 million out of Haiti's 5.8 million registered voters casting ballots, the disproportionate number of electoral monitors raises concerns. The CEP passed out approximately 916,000 voter passes to political party monitors after there were not enough of them during the tumultuous first round of legislative elections on August 9. While electoral workers check identification of voters at polling centers where they're registered to participate, monitors can cast ballots wherever they are, reports the Center for Economic and Policy Research. Monitors' votes were either sold or used to cast ballots multiple times. As such, the CEP invalidated 120,066 ballots and both Jean-Charles and Célestin have called for an independent commission to look into cases of ballot stuffing.
8 candidates, including MJC and J. Celestin, demand an independent commission to investigate fraud. #HaitiElections https://t.co/nDyYxvnnUU

— Haiti Vote Blog (@HaitiVoteBlog) November 4, 2015
Others have called for the removal of Moïse, Martelly's handpicked candidate, from the race. A political newcomer, Moïse is a businessman who runs Haiti's first agricultural free zone, Agritrans.
#HaitiElections : Jovenel Moïse, le candidat du pouvoir, arrive en tête des suffrages https://t.co/mLSq4RaNZf pic.twitter.com/NjfZ9ejZkv

— La1ere.fr (@la1ere) November 6, 2015