Americas Society
Council of the Americas
Uniting opinion leaders to exchange ideas and create solutions to the challenges of the Americas today
Haiti and the Dominican Republic Mend Fences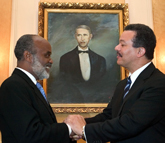 It may seem difficult to find an upshot to the massive natural disaster that hit Haiti last month. Yet the earthquake did lead to mended fences with the Dominican Republic. "The Dominicans were the first to arrive with help, with doctors, food, and aid," says Alice Blanchet, a special advisor to Haitian Prime Minister Jean-Max Bellerive. "They were stellar." Despite long-running tensions between Port-au-Prince and Santo Domingo, the disaster has drawn the neighbors closer together. As The Economist put it, the result is "[a] break in a history of mistrust." But how long that break will last could be tested, particularly given recent changes in Dominican immigration policy.
After the earthquake, Dominican President Leonel Fernández was the first foreign leader to visit Haiti and his country allowed injured Haitians to cross the border for treatment. In the past month, Fernández called for a $10 billion, five-year international fund and pledged to host an international conference focused on Haiti's reconstruction in Santo Domingo in June. Dominican initiatives include mobile kitchens that have served over two million meals in Haiti, sending buses to function as temporary schools, and a plan to bring students to Dominican schools and universities. The Haiti Innovation blog notes that, not only has the Dominican Republic served as a logistics center for relief efforts, but "Haiti also accepted a handful of Dominican peacekeepers, something unthinkable before the earthquake."
"I think the tragedy has had the blessing of bringing our countries closer," said Fernández in a February 17 interview with The Wall Street Journal. Yet he also expressed concern at the idea of a mass flight from Haiti into the Dominican Republic. Although they share an island, differences between the two countries go beyond the primary languages spoken. Their populations are of comparable sizes, but the Dominican Republic's GDP of $45.8 billion is more more than six times Haiti's.
With 80 percent of Haiti's population living below the poverty line, Haitians already headed to the Dominican Republic seeking opportunities, despite a history of violence between the two countries. And while the Dominican Republic is prosperous in comparison, marked income inequality and blackouts at the presidential palace contribute to fears that an influx of refugees could strain the country's resources. After the disaster, Santo Domingo suspended deportations of undocumented Haitians. But, before the quake, a new Dominican Constitution took shape that restricts Haitians' abilities to claim citizenship by defining Dominican citizens as children of Dominican parents. Previously, children born in the Dominican Republic could gain citizenship. The new document took effect on January 26, just two weeks after the disaster in Haiti.
Learn more:
"Reconstruction Will Be the Real Challenge," Eric Farnsworth, National Journal Online, January 19, 2010
How to Protect Haiti's "Orphans", AQ Web Exclusive, Karen Smith Rotabi, February 2, 2010.
Constitution of the Dominican Republic, which went into effect January 26, 2010.
CIA World Factbook data on the Dominican Republic and Haiti.
Open Scoiety Institute's in-depth look at "stateless" Haitians in the Dominican Republic, including interactive timeline.
Learn more about Wired.com's online community Haiti Rewired.