The Food Crisis and Latin America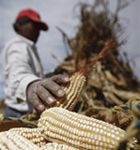 Soaring food prices—and resulting riots—have leaders around the world raising alarms about possible consequences. "We are going through a very serious crisis and we are going to see lots of food strikes and demonstrations," warned former UN Secretary-General Kofi Annan. The UN World Food Programme (WFP) predicts a "silent tsunami" in which high food prices across the globe could force as many as 100 million people into hunger. The WFP estimates that more than 52 million of the world's chronically hungry people live in Latin America and the Caribbean.
The Western Hemisphere has already witnessed dire effects of the price hikes. In early April, Haiti's Prime Minister Jacques Edouard Alexis was forced to step down following riots in his country. The protests erupted after the price of rice nearly doubled in Haiti within a week. Writing in the Christian Science Monitor, Kathie Klarreich—a longtime reporter on Haiti—notes that the democratic process used to remove Alexis from power "defied a tradition of violent and military interventions." Yet, the problem of hunger remains in Haiti, and experts predict rising prices could spark a wave of refugees attempting to leave the Caribbean island for Miami. 
Days after the Haitian riots, José Luis Machinea of the Economic Commission for Latin America and the Caribbean (ECLAC) announced that, without measures taken to counteract food price hikes, as many as ten million people could fall into poverty across the region. ECLAC also released economic projections for 2008, predicting that food price increases coupled with the slowdown of the U.S. economy will result in a 1 percent decrease in the region's GDP growth compared to 2007.
As concerns grow over possible effects of the food crisis, experts and leaders seek to identify the source of the problem as well as possible solutions. Recent remarks by World Bank President Robert B. Zoellick's attributing the demand for biofuels as a "significant contributor" to rising food prices has heightened debate over the use of ethanol. According to statistics from the United States Department of Agriculture, the price of corn doubled between 2005 and 2007, with U.S. production of corn-based ethanol held to blame. Roger Cohen writes in the International Herald Tribune, "Ethanol has turned awful" but warns against the demonizing of all types of biofuels.
Brazil's President Luiz Inácio Lula da Silva has been among ethanol's defenders, contending that rising oil prices are to blame for increased food costs. As a result of an ethanol production program dating back to the 1970s, Brazil is the world's largest exporter of sugar-based ethanol, and all gasoline sold in the country must contain at least 20 percent ethanol. The Bank's Zoellick pointed out in a recent press briefing that "sugar-based biofuels out of Brazil have the greatest benefits in terms of both fuel and dealing with the climatic effects."
On Wednesday, the presidents of Venezuela, Cuba, Bolivia, and Nicaragua met at a summit of the Bolivarian Alternative for the Americas (ALBA) to pledge a $100 million fund for food staples to fight rising costs in Latin America. ALBA leaders blamed the United States for causing the food price hikes through ethanol production and promised to institute price controls. During recent remarks, U.S. Treasury Secretary Henry M. Paulson, Jr. urged governments to resist the temptation of food price controls, saying they "create fiscal burdens and economic distortions."  Writing in the RGE Monitor, Anoop Singh of the International Monetary Fund, examines recent economic challenges facing Latin America that have prompted price controls. 
A recent Viewpoints Americas article by Pablo Reyes, director of the Center for Latin American and Strategic Studies in Bogotá, emphasizes creation of a sustainable biofuels strategy. In the latest issue of Americas Quarterly, experts debate whether ethanol production makes environmental and economic sense.