Five Things to Know about Ecuador's Presidential Runoff
In the April 11 second-round vote, Andrés Arauz faces Guillermo Lasso. Youth, women, and disaffected voters may play decisive roles.
Updated April 7, 2021— On April 11, Ecuadorans return to the polls for the second round of the presidential election. In the first round, no candidate reached the threshold necessary to win outright, which is 40 percent plus 10 percent ahead of the nearest rival. Andrés Arauz at 32.7 percent and Guillermo Lasso at 19.7 percent were the top vote-getters. Now, the two face each other in the runoff. Here's five things to know.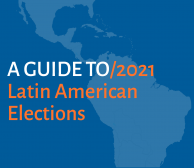 A Guide to 2021 Latin American Elections
In 2021, ten countries in Latin America hold elections—five of them presidential contests—while reeling from the pandemic's devastating impact.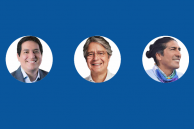 Meet the Candidates: Ecuador
Ecuadorians will face starkly different options when they vote for president in February.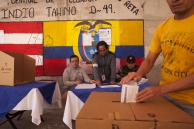 Explainer: Ecuador's 2021 Presidential Elections
Amid coronavirus and economic concerns, Ecuadorans pick a new legislature and hold a first-round presidential vote February 7.