Experiencias: Amb. Martha Bárcena on Getting More Women Sitting at the Table
Mexico's top diplomat in Washington shares her thoughts on rising through the foreign service ranks and the challenges for gender parity today.
In the third episode of Experiencias, Mexican Ambassador to the U.S. Martha Bárcena tells AS/COA President and CEO Susan Segal how she moved up through the ranks of the Mexican foreign service as well as the advantages of having more women at the table. She also offered advice for staying relevant at work during a leave of absence.
The ambassador, who says she would have pursued a career as a nuclear physicist if she hadn't gone into diplomacy, was one of eight people—four men and four women—who joined the Foreign Service in her year. "The problem is not to join," she says, "the problem is to stay." She said that bureaucratic procedures are not gender-friendly, particularly following motherhood.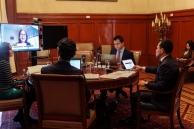 2020 Latin American Cities Conferences: Mexico City
The virtual conference featured an interview with Mexico's finance minister, as well as discussions with other officials and private-sector executives.
"Never stop learning and preparing yourselves."