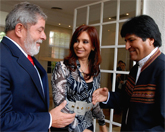 The presidents of Argentina, Brazil, and Bolivia met in Buenos Aires over the past weekend to seek solutions to looming energy woes. Despite the public smiles (video), it remains to be seen if what was accomplished in private will stave off shortages and meet Argentina's energy needs. 
Bolivia, which nationalized its natural gas industry in 2006 and faces a growing domestic demand, finds itself struggling to meet the obligations of gas contracts it holds with neighboring Brazil and Argentina. Out of fear that Brazil would face shortages, the country's oil company Petrobras has been reluctant to redirect gas supplies to Argentina, which will see energy needs rise in the coming winter months. The energy concerns come as Argentina, Bolivia, and Brazil seek to build on 2007 GDP growth rates of 8.5 percent, 4 percent, and 4.9 percent respectively.
As the New York Times reports, President Luiz Inácio Lula da Silva left his Argentine counterpart Cristina Fernandez de Kirchner with promises that Brazil may help with electricity to fuel power plants, but would not make pledges about sharing gas. After the meeting, Kirchner criticized predictions of an imminent Argentine energy crisis and said the meeting with Lula and Bolivian President Evo Morales provided a platform "to administer in a rational manner the region's energy exchange."  Kirchner's government has imposed energy-saving plans to boost efficiency.
Just as Brazil's decision affects Argentina's energy demands, Argentine policy in turn affect's Chile's. As the Financial Times reported in early February, imports from Argentina account for nearly three-quarters of the gas consumed by Chile. In 2004, Buenos Aires passed a resolution allowing it to favor domestic energy needs over exports, leading to restrictions in gas shipments and sparking energy troubles in Chile as well. A report by the University of Pennsylvania's Knowledge@Wharton looks at the effects of energy shortages on the Chilean economy and attempts to tap into alternative resources. 
Yet, even as energy troubles may loom in the short term, Lula and Kirchner made an agreement that could result in a long-term solution. Within the next few months, Brazil and Argentina will negotiate a pact involving joint enrichment of uranium to build a nuclear reactor. Calling the potential pact a plan for a "nuclear miniclub," Brazzil Magazine reports that the two countries say the goal involves peaceful use of nuclear energy.
However, after speaking with Brazilian Defense Minister Nelson Jobim, Argentina's Clarín reported that the deal could also involve joint construction of a nuclear submarine involving French cooperation. Brazil and France have recently discussed the possibility of a technology transfer, paving the way for Brazil to become the first Latin American country to own a nuclear submarine. Nuclear Threat Initiative's website provides overviews of nuclear programs conducted by Brazil and Argentina.