Energy and the Americas: Issues and Recommendations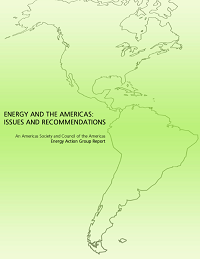 Amid global economic instability, volatile oil prices, and an uncertain political landscape for energy and environmental regulations in many countries, the need to identify a path to energy security and emissions reduction is paramount. Against this backdrop, the Americas Society and Council of the Americas Energy Action Group releases Energy and the Americas: Issues and Recommendations, a report that details findings from meetings with energy ministers, regulatory officials, private sector executives, and leading experts from across the Americas.
With abundant natural resources, the Western Hemisphere has the potential to be a global leader in renewable and conventional energy production. This report provides an analysis of some of the fundamental issues facing energy policy makers in the region as they seek to develop sustainable energy sectors. It also discusses lessons learned and makes recommendations in four broad categories: investment climate, environmental and social protections, the competitiveness of renewable with conventional energy sources, and the implications of the increasing presence of China in the region's energy sector.
---
---
Key points in the report:
Essential elements of a positive investment climate for oil and gas include an independent regulator, a state oil company that competes with private companies, competitive royalty and tax regimes relative to risk, and a stable regulatory framework that provides certainty for investors.
Environmental and social protections must be an integral part of oil and gas management.
Subsidies for renewable and conventional energy are not sustainable and create uncertainty for investors over the long term.
China's entry into the Western Hemisphere is changing the face of energy investing with far-reaching implications that must be better understood.