Deuda: El gobierno apura las gestiones para cubrir pagos hasta fin de año
El Cronista Comercial destaca el testimonio de Eric Farnsworth ante el Senado de Estados Unidos.
El próximo 9 de julio el Tesoro deberá afrontar un nuevo pago de intereses a los bonistas reestructurados del canje de deuda de 2020. Y los tenedores de los títulos mostraron su inquietud con un nuevo reclamo en redes sociales, donde demandaron un plan de estabilización. [...]
También Washington juega. En una audiencia ante el Senado de los Estados Unidos, el vicepresidente del Council of the Americas, Eric Farnsworth, abogó por extender los acuerdos con Canadá y México al resto de la región.
"Si queremos apoyar los intereses de los EE. UU., incluido nuestro propio crecimiento económico, la seguridad y la resiliencia de la cadena de suministro, el desarrollo regional que desaliente la migración y las actividades ilegales, la gobernabilidad y mantener una posición privilegiada en las Américas, tenemos que ayudar, porque las alternativas ahora existen, a saber, China, que antes no existían", indicó.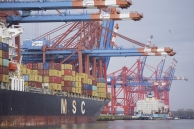 Senate Testimony: Trade and Economic Policy
Washington must take a bigger role in engaging and supporting its allies in Latin America, says AS/COA's Eric Farnsworth.